Study protocol
Open Access
Open Peer Review
This article has Open Peer Review reports available.
The E Sibling Project – exploratory randomised controlled trial of an online multi-component psychoeducational intervention for siblings of individuals with first episode psychosis
Received: 12 December 2012
Accepted: 19 April 2013
Published: 26 April 2013
Abstract
Background
Siblings of individuals with first episode psychosis are natural partners to promote service users' recovery and are themselves vulnerable to mental ill health due to the negative impact of psychosis within the family. This study aims to develop and undertake a preliminary evaluation of the efficacy of an online multi-component psychoeducational intervention for siblings of individuals with first episode psychosis. The impetus for the intervention arose from siblings' expressed needs for peer support and information on psychosis, coping and management strategies for common symptoms and ways to promote recovery.
Methods/Design
The project design draws on the Medical Research Council framework for the design and evaluation of complex interventions. Mixed methods comprising collection of qualitative focus group data, systematic review and expert advisory group consultation are used to develop the theoretical basis for and design of the intervention. This protocol focuses on the modelling and piloting phase which uses a randomised controlled trial with factorial design to test the efficacy of the intervention. Outcome data on participants' mental wellbeing, knowledge, perceived self-efficacy and experiences of caregiving will be assessed at baseline, at end of the intervention (10 weeks later) and at 10 week follow-up. In addition, a post-intervention semi-structured interview with 20% of the participants will explore their experiences and acceptability of the intervention.
Discussion
This multi-component online psychoeducational intervention aims to enhance siblings' knowledge about psychosis and their coping capacity, thus potentially improving their own mental wellbeing and promoting their contribution to service users' recovery. The factorial design randomised controlled trial with a supplementary process evaluation using semi-structured interviews and usage-monitoring will collect preliminary evidence of efficacy, feasibility and acceptability, as well as feedback about the barriers and strategies to using such an innovative resource. The RCT will provide data for estimating the likely effect size of the intervention on outcomes for siblings and inform the development of a definitive future trial.
Keywords
SiblingsBrothersSistersFirst-episode early onset psychosisFamilyRandomised controlled trialPsychoeducationPeer supportHealth education
Background
Over 80% of the general population in the U.K. has at least one sibling, and the sibling relationship often outlives any other kind of relationship, including marriages and parenthood [1]. Siblings share 'a common social, cultural and genetic heritage that often reaches into old age'[2]. As such, the sibling relationship can be particularly influenced or influential when one sibling develops a severe mental illness. It has been argued that the quality of the sibling relationship, especially during adolescence and early adulthood, is a predictive factor in the siblings' future involvement in caring for their brother or sister with severe mental illness [3], as well as being associated with a higher quality of life [4] and a more promising recovery trajectory [5, 6] in individuals with a diagnosis of psychosis. However, despite the significance of the sibling relationship and policy guidelines advocating a family inclusive approach across mental health services, especially Early Intervention in Psychosis Services (EIPS) [7], front-line service provision falls short in this respect. There remains a paucity of research into effective interventions for siblings of individuals with first episode psychosis (FEP) [8–10].
Psychoeducation, information-giving on the condition and its management [7, 11], is among the most effective of the evidence-based psychological interventions that has long been implemented as both an individual and a group approach to service users of severe mental illness and their family members or carers (see [11] for an updated Cochrane Review). It is frequently hypothesised that the effectiveness of psychoeducation can be explained by its impact on knowledge, on stress appraisal and on coping, and subsequently perceived subjective burden and self-efficacy (for example: [12, 13]); so building upon the theory of stress and coping first coined by Lazarus in the 1960s [14]. Meanwhile, a recent qualitative research study of FEP siblings' needs and experiences [9, 15] highlighted siblings' needs for robust, dynamic and accessible psychoeducational information on psychosis, coupled with peer support, practical coping and management strategies for common psychotic signs and symptoms, adjustment to loss and changes, and ways to promote recovery in their ill brother or sister. Most siblings reported experiencing a range of emotions, for example: worry, guilt, loneliness and stigma, that affect their own wellbeing, whilst some also reported developing resilience within themselves and their families [6, 9].
Traditional and conventional psychoeducation delivery through face-to-face sessions with mental health professionals or accessed through statutory mental health services has failed to reach siblings successfully hitherto [9, 15, 16]. A high proportion of siblings of individuals diagnosed with FEP are in full-time education or are of working age and many have busy lives. Thus any service development targeting siblings demands flexible, dynamic and innovative measures using modern information and communication technologies [17]. There is a handful of research studies showing promising benefits for multi-component online psychoeducational interventions, covering a range of long-term and severe diseases including dementia, diabetes, and cancer. Multi-component interventions for these conditions commonly include: information sharing, networked peer support, electronic resources and facilitated discussion forums [18]; but much less work has been done in the field of severe mental illness [19, 20]. To date, there are only three known exploratory controlled trials evaluating online psychoeducational interventions with service users with psychosis and their family carers in the U.S.A. [19, 21, 22] and with service users with bipolar disorder in Australia [23]. In the UK, a few online blogs and information-giving websites have been established by leading charities over the last few years (for example: http://www.sibs.org.uk[24] and http://www.rethink.org/siblings[25]). However, there is no known evaluative study of any such intervention for people with severe mental illness and their families, let alone siblings.
Justification and rationale of the current project
The need for a robust, flexible and effective psychoeducational intervention that also provides an element of peer support for siblings especially when they are in their late teenage and early adulthood is clear [9, 16]. There have been a number of successful and effective online psychoeducational interventions for service users and their family members across a wide range of long-term severe illness, but such interventions are under-developed in the mental health field. A few charities in the U.K., Australia, Canada and the U.S.A., prompted by siblings' own initiatives and demands, have been running information-giving and network support web-sites for siblings over the last few years. However, there are no known evaluations of the impact of these initiatives. In a time of evolving technological advances and ever-increasing emphasis on cost-effective and evidence-based interventions promoting self-management, development of an online psychoeducational intervention incorporating various components and resources indicated for this population together with a rigorous evaluation, is timely.
Aims of the project
This paper describes the rationale and protocol for a factorial designed randomised controlled trial targeting siblings of young people diagnosed with FEP who are receiving support from local EIPS. The aims of the overall "E Sibling Project" are to:
I.

Develop a multi-component resource combining health information and peer support enlisting research evidence and siblings' views.

II.

Optimise the IT and e-learning technologies in the design and delivery of the intervention.

III.

Undertake a preliminary evaluation of the efficacy of the intervention.
The trial has the following objectives:
IV.

To optimise the intervention

V.

To determine trial parameters

VI.

To provide preliminary evidence of the efficacy of the intervention in terms of impact on siblings' mental wellbeing; knowledge; perceived self-efficacy in coping and experiences in caregiving.

VII.

To optimise the design of a future full scale trial
Methods
The design of this study draws upon the UK Medical Research Council's complex interventions framework [
26
] to address the key elements of the development and evaluation of an online multi-component psychoeducational intervention for siblings of individuals diagnosed with FEP. The intervention is "complex" according to the MRC definition [
26
] because it comprises a number of and interactions between components within the intervention, that subsequently impact on a number of variable outcomes. The components are: psychoeducation and peer support, each of which is a complex intervention in its own right, and each may work independently as well as inter-dependently in exerting their effects. The potential outcomes include: siblings' mental wellbeing, knowledge, self-efficacy and coping. Another issue for consideration in complex interventions is the number and difficulty of performing behaviours required by those delivering and/or receiving the intervention, such as those involved in this intervention by the sibling-participants. These complexities demand a factorial designed RCT in which not only primary outcomes and multiple secondary outcomes are investigated, but also the process evaluation measures to understand participants' experiences and actual usage of the intervention. The project comprises a number of phases using mixed research methods, as outlined in Figure
1
. The study was reviewed and approved by UK NHS Research Ethics Committee process (REC approval reference number: 12/LO/1537).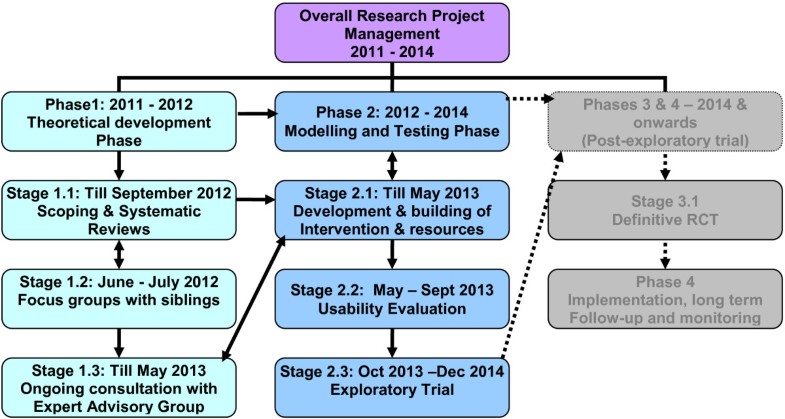 The RCT comprises an exploratory trial, to complete the modelling and piloting phase of the MRC 4-phased framework [
26
]. The RCT employs a 2 by 2 factorial design, as illustrated by Figure
2
. The factorial design gives the RCT 4 arms: 3 treatment conditions (covering: psychoeducation alone; peer support alone; and combined psychoeducation and peer support) and a control condition. This design is chosen to fit with the two active components in the intervention, i.e. psychoeducation and peer support. Considering that these two ingredients may work independently as well as inter-dependently, the three treatment arms allow an investigation not only to determine the effectiveness of the combined psychoeducation and peer-support treatment condition, but also of how each ingredient impacts independently on particular participants' outcomes, minimising any contamination [
26
,
27
]. Hence, the factorial design RCT will aid our theoretical understanding of the intervention, how it works, how its ingredients interact with each other and ultimately how it supports changes in the targeted outcomes. Furthermore, the results using the factorial design will inform the optimal intervention to be used in the full scale trial.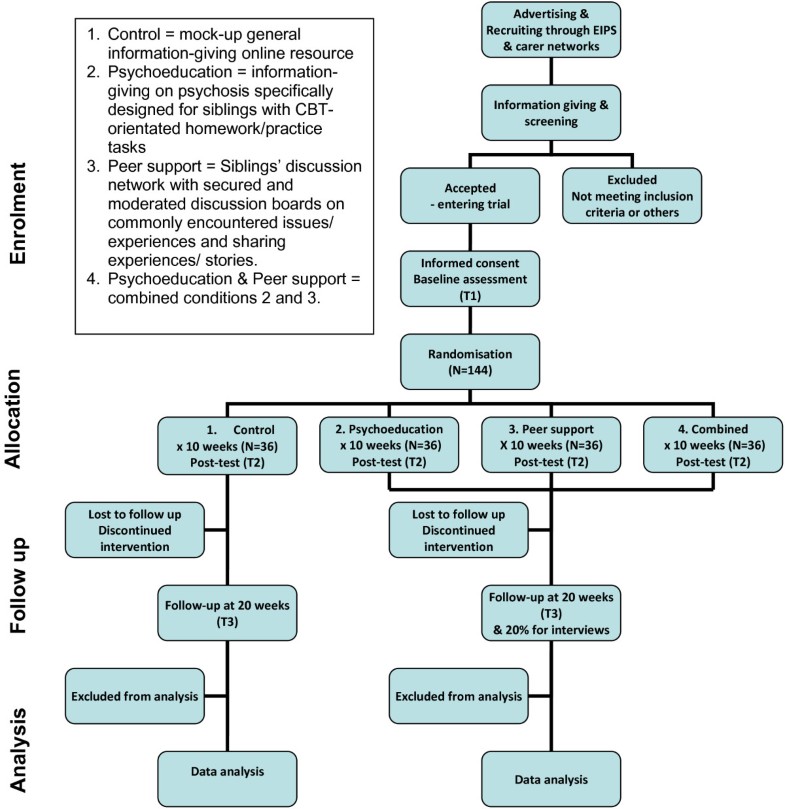 Discussion
The design of the intervention is based upon the stress-appraisal and coping theory [14] that is commonly used in conventional psychoeducational interventions targeting family members and relatives (for example: [12, 13]). The needs for information and peer support have been identified by siblings themselves as well as in a prior qualitative study targeting the same population group [9, 15]. As such, some conventional outcome measures like the ECI [31] and the Assessment of Perceived General Self-efficacy [30], together with more recent development, like the MAKS [29] and WEMWBS [28], are used in this trial. Whilst retaining some frequently used outcome measures targeting changes in knowledge and self-efficacy, we have decided against including some other traditional outcome measures that have been used historically to determine changes in family members' perceived burden and expressed emotion [12, 13]. Our earlier research on siblings' experiences and needs of service identified that most of them do not regard themselves as (primary) "carers" [9, 15]. Instead, most siblings see their parents shouldering the primary carer role and their own contribution being supporting their ill brother or sister as well as their parents.
Considering the dearth of research with siblings of people with FEP, this trial serves as an exploratory study which has, as one of its aims, to produce an estimate of the value of outcomes. On a more general level, the trial will test out the feasibility and efficacy of an innovative intervention delivered online, which draws its theoretical base from well researched psychoeducation and peer support which is conventionally delivered face-to-face. Considered together with data on usage patterns (e.g. number of hits, frequency and duration of use) which is inbuilt within the online medium and is collected as a matter of routine, further analysis could be conducted on feasibility and correlation between efficacy and usage.
The online delivery process of the intervention arguable provides further benefits in enhancing the qualities of the randomisation, concealment (to participants) and double blinding (to both the participants and the researchers) as all procedures are pre-set by the CTU and IT technicians, independent of the research team who is responsible for data analysis. Data collection is direct from the participants to the online outcome measure tools, to minimise any possible contamination brought about by a researcher interviewing the participants.
The intervention developed through the E-Sibling Project has the potential to be disseminated widely at minimal cost given its online design and delivery medium, in the medium term future. The intervention will provide a service to siblings who are currently often invisible to the statutory service and voluntary organisations providing a service for carers.
Declarations
Acknowledgement
This paper presents independent research supported by the National Institute of Health Research (NIHR) under its Doctoral Reseach Fellowship Programme (Grant Reference Number: NIHR-DRF-2011-04-129). Views expressed are those of the authors and not necessarily those of the NIHR or the Department of Health.
The authors also thank Rethink Mental Illness Siblings Project for their collaboration in this project, specifically for contributing materials, supporting the development of some content and for their support in advertising and recruiting for Phase 1 of the project.
The authors acknowledge inputs from:
Peter Milligan (Statistician, Florence Nightingale School of Nursing & Midwifery, King's College London) for statistical advice and also Philip Blake and Riaz Toorabally (Learning Technologists, FNSNM, KCL) for their e-learning expertise in the design and conduct of the research project.
Authors' Affiliations
(1)
Florence Nightingale School of Nursing & Midwifery, King's College London, London, England
(2)
Institute of Psychiatry, King's College London, London, England
(3)
The McPin Foundation, London, England
Copyright
© Sin et al.; licensee BioMed Central Ltd. 2013
This article is published under license to BioMed Central Ltd. This is an Open Access article distributed under the terms of the Creative Commons Attribution License (http://creativecommons.org/licenses/by/2.0), which permits unrestricted use, distribution, and reproduction in any medium, provided the original work is properly cited.