Research article

Open Access

Open Peer Review
This article has Open Peer Review reports available.
Qualitative investigation of targets for and barriers to interventions to prevent psychosis relapse
Received: 12 February 2014
Accepted: 9 July 2014
Published: 16 July 2014
Abstract
Background
Early signs based relapse prevention interventions for psychosis show promise. In order to examine how they might be improved we sought to better understand the early relapse process, service users' abilities to identify early signs, and any potential facilitators and barriers to early signs interventions.
Methods
Data from in-depth interviews with a convenience sample of service users with psychosis varying in gender, age, duration of mental health problems, and time since last relapse were analysed using a thematic approach. Interview transcripts were coded inductively and relationships between emerging themes were examined by the research team to provide a thorough synthesis of the data.
Results
Three central themes emerged from the analysis: 1) recognising risk factors (how risk factors were identified and linked to relapse, and reactions to such risk factors); 2) identifying early signs (issues related to both recognising and recalling signs of relapse); 3) reacting to deterioration (participants' thoughts and feelings in response to early signs, including help seeking and its challenges).
Conclusions
There was considerable variation in the attention participants had paid to pre-relapse signs, the ease with which they were able to recall them, and their reactions to them. For many, there were substantial barriers to help seeking from services. A family or friend confidant was an important means of assistance, although the supportive presence of significant others was not always available. Based on these results, a number of recommendations about facilitating service users' recognition of early signs and targeting potential accelerants of relapse are made.
Keywords
RelapsePsychosisSchizophreniaEarly signsBasic symptomsProdromeInterventionQualitative
Background
Since relapses of psychosis are prevalent [1] and problematic [2–4], effective relapse prevention interventions are needed. Early signs based relapse prevention interventions work on the premise that timely prediction of relapses will allow preventative action to be taken, minimising the chance of full relapse. Service users are encouraged to monitor their own mental state and if early signs of relapse emerge (e.g. insomnia, anxiety, dysphoria, attenuated psychotic symptoms) to act upon a pre-agreed, concrete plan (e.g. increased medication, increased support, stress reduction). Such interventions show promise but could be further improved [5]. Qualitative methods are suited to exploring how an intervention works and potential barriers to its effective implementation [6], complementing quantitative approaches [5] that necessarily impose a preconceived structure on such experiences and may overlook unexpected, important findings. We therefore used thematic analysis of in-depth interviews to better understand the early phase of relapse, service users' abilities to identify early signs, and any other potential facilitators of and barriers to early signs interventions.
Although a number of previous papers have discussed such facilitators and barriers [7–12] the evidence is largely anecdotal [10–12]. The few existing qualitative studies [7–9] comprised interviews or focus groups with no more than ten participants from any one group (service users, staff or carers) and either conducted fairly superficial analyses (Alceste textual analysis [9]) or are unsubstantiated by quotations from participants [7, 8]. Nevertheless, these studies make useful observations on the role of family members in early signs interventions [7, 9], the need for therapeutic alliance with clinicians [8, 9], the value of idiosyncratic early signs [7, 9] and the challenges posed by negative symptoms or cognitive difficulties [8]. One further qualitative study [13] used a rigorous interpretative interactionism approach to examine how services users develop the ability to detect early signs of relapse. It outlined a shift from responding reactively to emotional distress to responding pro-actively. Unlike the current study it did not examine any one episode in detail but looked for patterns developing over successive episodes.
We conducted a thorough, transparent analysis of in-depth interviews with a diverse, relatively large sample of services users who had recently experienced a relapse of psychosis. We retrospectively examined deterioration from initial triggers to the onset of relapse itself and obtained narratives of this process and reflections on how easy or otherwise it was to recount, supplemented by direct observations during the interviews.
The study aimed to examine how the early signs approach to relapse prevention might be improved; to this end service users' experiences and reactions early in the relapse process were explored. Accordingly we have made a number of clinical recommendations about facilitating service users' recognition of early signs and targeting potential accelerants of relapse, as well as suggestions for future research.
Methods
Ethical approval was obtained from the Liverpool Central research ethics committee (ref: 12/NW/0091). The study is reported in line with recommendations outlined in the COREQ checklist [14].
Sampling and recruitment
Participants were recruited from three NHS Mental Health Trusts in the North of England between May and November 2012. Inclusion criteria were: aged over 18 years; a current, primary clinical diagnosis of non-affective psychotic disorder (DSM-IV) [15]; at least one episode of acute psychosis in the past 6 months requiring admission to crisis team or inpatient unit; currently prescribed antipsychotic medication; no illicit drug use or alcohol abuse or dependence during the pre-relapse period; able to give informed consent.
We aimed to recruit 20 to 25 service users to capture a diversity of experiences. Recruitment stopped after 23 interviews as a consistency was emerging in the themes across the participants. The convenience sample had a good mix of key variables (age, gender, ethnicity, number of psychosis episodes, inter-episode symptom level and length of time since admission) so more purposive sampling was unnecessary. A summary of clinical and demographic characteristics is given in Table
1
and basic descriptions of individual participants are given in Table
2
.
Table 1
Summary of clinical and demographic characteristics of the study sample (n = 23)
| | Frequency | Percentage |
| --- | --- | --- |
| Diagnosis | | |
|  Schizophrenia | 17 | (73.9) |
|  Schizoaffective disorder | 6 | (26.1) |
| Number of psychosis episodes | | |
|  Two | 4 | (17.4) |
|  Three | 12 | (52.2) |
|  Four or more | 7 | (30.4) |
| Level of inter-episode symptoms | | |
|  None | 6 | (26.1) |
|  Low level | 15 | (65.2) |
|  High level | 2 | (8.7) |
| When discharged from hospital or crisis team, relative to interview | | |
|  Not discharged (hospital) | 7 | (30.4) |
|  <1 month ago (hospital) and/or not discharged (from crisis team) | 10 | (43.5) |
|  >1 month ago (hospital) and/or < 1 month ago (from crisis team) | 2 | (8.7) |
|  >1 month ago (hospital and/or crisis team) | 4 | (17.4) |
| PANSS positive sub-scale score, mean (SD) | 16.87 | (5.4) |
| Age, mean (SD) | 38.4 | (14.0) |
| Gender, n male | 11 | (47.8) |
| Ethnic origin | | |
|  Asian or Asian British | 3 | (13.0) |
|  Black or Black British | 3 | (13.0) |
|  White British | 16 | (69.6) |
|  Other ethnic group | 1 | (4.3) |
| Education | | |
|  None or primary only | 3 | (13.0) |
|  Secondary | 6 | (26.1) |
|  Further (e.g. A levels or Diploma) | 7 | (30.4) |
|  Higher (e.g. bachelor's degree) | 7 | (30.4) |
| Employment | | |
|  Retired | 3 | (13.0) |
|  Home duties | 1 | (4.3) |
|  Unemployed | 19 | (82.6) |
| Living arrangement | | |
|  Family or partner | 9 | (39.1) |
|  Alone | 11 | (47.8) |
|  Shared/supported accommodation | 3 | (13.0) |
| Level of family or carer contact | | |
|  None | 8 | (34.8) |
|  Low | 8 | (34.8) |
|  High | 7 | (30.4) |
Table 2
Basic characteristics of individual participants
| Participant | Gender | Age | Number of psychosis episodes |
| --- | --- | --- | --- |
| P02 | Female | 24 | 2 |
| P03 | Female | 48 | ≥4 |
| P04 | Female | 62 | 3 |
| P05 | Female | 64 | 2 |
| P06 | Male | 19 | 3 |
| P08 | Male | 57 | ≥4 |
| P10 | Male | 43 | 3 |
| P12 | Male | 32 | 3 |
| P14 | Male | 51 | ≥4 |
| P18 | Female | 47 | ≥4 |
| P19 | Female | 22 | 3 |
| P20 | Female | 24 | 3 |
| P21 | Female | 27 | 3 |
| P22 | Female | 39 | ≥4 |
| P25 | Female | 39 | 3 |
| P26 | Female | 33 | 3 |
| P29 | Male | 37 | ≥4 |
| P30 | Male | 24 | 2 |
| P32 | Female | 33 | 2 |
| P34 | Male | 24 | 3 |
| P35 | Male | 64 | ≥4 |
| P36 | Male | 35 | 3 |
| P37 | Male | 34 | 3 |
Clinicians referred patients they judged capacitous and suitable. The way in which the research was presented to potential interviewees may have affected their decision to participate and the content of their narratives. We explained that we were interested in their experiences in the few months before their recent admission, especially any changes that they noticed at an early stage. We emphasised that their decision whether to participate would not affect their clinical care and that, aside from urgent risk information, nothing from the interviews would be passed to the clinical team without the participant's consent. Participants knew that they had been selected due to their diagnosis of psychosis and several agreed to take part, knowing this, despite not agreeing with their diagnosis. They were offered shopping vouchers (£15), which may have influenced their decision to participate but is unlikely to have affected the content of the interviews.
Qualitative interviews
Interviews took place during a one-off meeting at the participant's home or an NHS service, with all but two conducted by the first author (EE, a female PhD researcher with a Master of Research degree which included a qualitative methods component) (CB and RD conducted one interview each). All interviewers identified themselves as researchers and not members of any clinical team. In four cases a family member (P06, P37, P21) or carer (P35) was also present during the interview at the participant's request. Interviews lasted 30 to 90 minutes, were audio recorded and later transcribed. For logistical reasons, we were unable to consult participants for feedback on data transcription or analysis.
Based on a topic guide (available on request), developed by the research team in consultation with two pilot participants, the interviewer used open questions to explore events, feelings and experiences prior to the participant's most recent episode of psychosis. Topics used to promote discussion of this period included: participants' daily routines, their relationships with others, how they felt in themselves and how things around them seemed. The topic guide was used flexibly to guide the interview, the aim being for the researcher to gain an in-depth understanding of the participant's experiences rather than to obtain answers to specific questions. Probe questions were used where applicable to prompt further elaboration. Immediately after the interview, the interviewer made a note of any possible themes, additions to the topic guide or relevant contextual details.
Analysis
Analysis of the qualitative data was conducted by a PhD researcher (EE), a clinical psychologist (CB) and a psychiatrist (RD), in consultation with a clinical psychologist with experience in qualitative research (FL). Our thematic analysis followed a social constructionist approach [16], with interview transcripts coded inductively and relationships between emerging themes examined to give a thorough synthesis of the data. The initial coding scheme was developed by the whole research team, based on reading, discussion and preliminary coding of the first three interviews. The remaining transcripts were then systematically coded by EE, managing the process using the NVivo software package [17]. The coding scheme was constantly updated as it was applied to further interviews. Emerging themes were discussed and refined within the wider team to ensure transparency and rigour, with attention paid to why 'deviant cases' did not fit the emerging theory. When initial coding of all interview transcripts was completed, a final coding scheme was agreed and all transcripts were re-coded to ensure consistent coding of the whole dataset. All ideas, insights, discussions and decisions during data collection and analysis were documented. Together with the post-interview memos, these notes provide an audit trail giving a transparent account of the process.
The mix of professional backgrounds within the research team promoted consideration of a variety of interpretations after thorough scrutiny of the data. Nevertheless, we inevitably brought certain assumptions and expectations to the interview and analysis process. In conducting a study aiming to inform relapse prevention, we assumed that relapse is something negative that should be prevented. Based on the research literature, we anticipated that service users would experience changes early on in their deterioration that may be useful early signs of relapse; a key focus of the interviews was to elicit descriptions of and reflections on such changes. Finally, our reading of the wider psychosis literature, including medical (e.g. ICD-10) [18] and psychological [19] models of psychosis, is likely to have influenced data interpretation.
Results and discussion
Some participants were very reflective as they spoke about their experiences prior to relapse, clearly having already given the topic a lot of thought. Others were notably unreflective, suggesting that they had rarely, if ever, considered it before. Communication was influenced by language (all were fluent English speakers but for three this was not their first language) and apparently by phenomena such as thought disorder.
Three themes relating to service users' experiences in the early stages of relapse emerged from the analysis of the data (see Figure
1
).
Recognising risk factors
captures participants' accounts of significant events or stressors that occurred during the few months prior to their recent relapse, whether they saw them as risk factors for relapse, and their reactions to these experiences. Secondly, service users outlined changes in their internal experiences during the earliest phase of their recent deterioration in mental health that may be useful as early signs of relapse. Whilst the nature of these changes will be covered in a companion paper, the ease with which participants were able to recognise and recall them emerged as a strong theme in the current study, labelled
identifying early signs
. Thirdly,
reacting to deterioration
depicts participants' thoughts and behaviours in response to these subjective changes.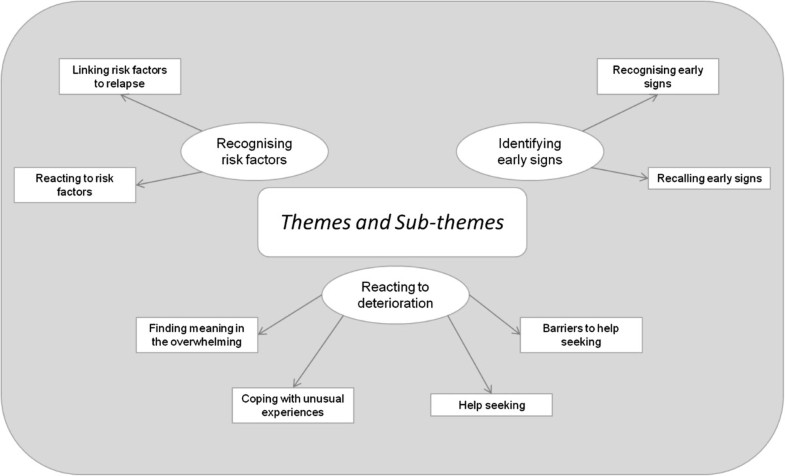 Recognising risk factors
Linking risk factors to relapse
As might be expected from existing literature, interpersonal stress [20], life events [21, 22], isolation [1, 23] and medication reduction [1, 24] were reported by many participants as precursors to their recent deterioration. Although easily identified in retrospect, not everyone linked them to their subsequent relapse. Some did; for example, one participant described a gradual progression from her stressful interactions with her neighbour to her later fears that he, and eventually everyone, was going to kill her.
"It wasn't until when he started complaining, and then it was like everyone was against me because I couldn't get anywhere with him, but it was quite rational up to – and then it went irrational" [P04].
Participants who made such associations tended to meet criteria proposed for 'insight', for example at least partially agreeing with their diagnosis [25–27]. This is worth bearing in mind clinically when considering whether an individual would currently benefit from an early signs intervention. Since insight increases as symptoms resolve following an acute episode [28], the timing of such an intervention may be a key to its success.
On the whole, participants did not readily link positive life events, such as starting a new job or college course, to their subsequent deterioration, despite evidence that they are risk factors [21]. Nevertheless, one participant developed her view as the interview progressed until she reached the conclusion that anticipation of a new job may have been linked to her relapse.
"the [name of city where first episode occurred] was completely stress, whereas this time round I don't know what it was, maybe just the anticipation of going into an office environment" [P02].
The reluctance to acknowledge positive life events as risk factors may reflect the potential cognitive challenge: if even positive life events are risky, how do I improve my life? This paradox may need to be worked through cognitively as part of the intervention. Service users may be encouraged by the idea that an early warning signs approach provides them with tools for dealing with the challenge. By learning to recognise early signs of deterioration they can make progress whilst maintaining a sense of control of their mental health, rather than avoiding positive life events.
Some linked isolation to relapse: some simply made a chronological link, whereas others' descriptions hinted at three potential mechanisms by which these experiences may impact psychosis: the absence of opportunities for reality testing (see finding meaning in the overwhelming sub-theme), the lack of assistance in seeking professional help (see help seeking sub-theme) and the stress of coping alone (see quote below).
"It got worse when my mum went away from me 'cos she's always with me. And I used to tell her if anything bothered me and if I tell somebody else they wouldn't understand what was happening." [P21].
This is consistent with the finding that high availability of attachment protects against relapse after a life event [29].
Unlike other risk factors, reducing or stopping medication was viewed by almost everyone who mentioned it as a trigger for their deterioration. Only one participant said he felt better after he had stopped the medication (although other content of the interview suggested that he got more psychotic).
"me I'm fine. Feeling good. Stop the medication, feeling very good. So take medication, so me have, make me paranoid, make me scared" [P12].
Otherwise, the closer in time the two events, the more easily participants made an association. Two participants who stopped the medication after the psychotic symptoms had begun to get worse saw this step as accelerating their deterioration.
"I kidded myself I could get by without it… I became more and more psychotic" [P35].
Similarly, a Taiwanese qualitative study [30] found that service users often began to value medication through trial and error. For those who stop or reduce medication several months prior to relapse, discussion of the protective role of medication in the context of stress-vulnerability may help them to make the link. Though, as with any medication, the potential risks and benefits of long term antipsychotic use need to be carefully considered [31–33], the need to be all the more vigilant when it comes to life events or other risk factors after reducing or stopping medication should be emphasised during early signs intervention.
Reacting to risk factors
Participants tended to describe reactions to risk factors, including life events or interpersonal stressors, such as sadness, fear, and rumination.
"Well the main er thing is er my uncle passed away, March 29, so my mum went Pakistan and I was really missing my mum. And er I started getting depressed and stressed out… and I was really really sad and uncontrollable I was crying for no reason, just started from there" [P21].
"if I'd had a tricky day, perhaps problems with strangers or officialdom I – I had so much going on in my head trying to analyse it that I wouldn't actually get any sleep" [P35].
The current early signs literature tends to characterise early signs (including changes in feelings) as stand-alone, spontaneous changes, so there may be a danger that emotional changes in response to life events and other stressors may be discounted. Including such changes in self-monitoring strategies, understandable reactions though they may be, may improve relapse prediction.
Furthermore, the negative emotions may themselves be potential targets for therapy. Not only are they unpleasant in their own right, they may contribute to the development of psychosis. Two existing cognitive models of psychosis relapse [34, 35] propose that dysphoric early signs (e.g. anxiety, depression, arousal, insomnia) are responses to internal or external events resembling the early stages of previous episodes and that, as such, they can be causal factors rather than just inert epiphenomena of imminent relapse. To our knowledge, only one study to date [36] has used a targeted psychological therapy (cognitive behavioural therapy) to directly address these states. Relapse rates were significantly reduced in those receiving the intervention, but this result can only be considered preliminary due to methodological limitations [5].
When participants in the current study had reduced their medication after feeling well for some time, they often expressed anticipatory anxiety or regret about having done so.
"I was worried like cause you know the medication makes you go to sleep it's starts causing drowsiness so I was like, well I've been on this for three years, erm how is this gonna really affect me" [P02].
"…I said 'look I'm well now, can I change it?'"; "That was the worst thing I could have done." [P03].
That progressing from feeling well to a dose reduction could lead to deterioration may disturb some individuals; they may find that early signs interventions enable them to reduce medication whilst managing their anxiety by creating a sense of being in control.
Identifying early signs
Recognising early signs
Details of the changes in experience identified as early signs of deterioration will be described in a companion paper along with quantitative information regarding their frequency in this sample. Participants reflected on how easy or otherwise it was to identify early signs, highlighting a number of potential challenges, discussed below.
One participant's relapse was simply an exacerbation of the voices that he had heard for several decades and he could identify no early signs of this deterioration. Nevertheless, others with persistent symptoms were able to recognise changes preceding an exacerbation. For some this awareness had taken some time to develop but was then seen as an asset.
"erm to be honest erm until this kind of episode I did lack insight - erm and I knew that these things were changing but I couldn't see the connection… erm but this time, kind of with hindsight and just bit more awareness really so I'm hoping that will kind of aid me in the future really" [P19].
Several participants commented that their willingness to talk about the process of relapse had increased over time, implying that they would previously have struggled to discuss it. This is consistent with a transition from "sealing over" to "integration" [37, 38] of the episode into a positive self-concept. Given that sealing over is associated with poor engagement with services [39], service users in this group may find identifying early signs particularly difficult. For some the transition to a more integrative recovery style might be a necessary precursor to participating in an early signs intervention.
The speed at which episodes occurred could pose a challenge. Some participants experienced the onset of psychotic symptoms as abrupt, often using language that highlighted the impact.
"I were decorating one day and then it were like, it were like. It weren't my head exploding or anything. It were just like 'bang' – there were like these voices coming from everywhere around" [P36].
Some identified no change in the run up to the psychotic symptoms, for example emphasising that they maintained their normal routine in the run up to their deterioration and that their perceptions were unchanged.
"Oh just doing normal things like everybody else."; "everything was just usual." [P03].
Nevertheless, as the interviews progressed several of these participants began to identify early signs retrospectively. This was also the case for those who identified having a very gradual deterioration as a potential challenge, since they were unable to detect any early signs at the time (although significant others sometimes could).
"I don't think if erm if I was by myself cos most of the time all the time my family was there to help me er, I don't think I would have noticed things changing that gradually" [P34].
"it's very difficult for me to give you a timeline… 'cos it's very difficult to notice your own malfunctioning downwards into a spiral… I'm probably learning more of it by talking to you" [P04].
As the second quote illustrates, the interview was a catalyst in working out what had happened, with questioning and reflection from a third party appearing to facilitate this process. This may also be why some found the assistance of family or close friends invaluable:
"Would it be possible for my mum to come in? 'Cos my mum monitors me the most" [P06].
Although family members can clearly play an important role, service users' own ability to identify early signs, given appropriate support, should not be underestimated. Unlike carers, service users have access to subjective as well as objective changes [7]. Furthermore, some participants recognised a pattern of early signs that had occurred prior to several previous episodes with minimal assistance. Others who did not spontaneously make comparisons with previous episodes often acknowledged that there was a pattern when asked by the interviewer.
"Yeah there must be a pattern to it… Like not getting any sleep, like two hours a night" [P03].
Recalling early signs
Although all participants had experienced their most recent relapse within the last 6 months, some struggled to recall the early stages of this deterioration. Nonetheless most of these people were able to remember at least some aspects of this period when guided by the interviewer's open questions. There was no discernible relationship between difficulty remembering and how long ago the deterioration occurred. Nevertheless, practitioners negotiating an early signs intervention might make this decision on a case by case basis, taking into account the service user's current ability to remember the recent episode and their current level of insight. They should also set aside plenty of time for the initial identification of early signs, since we found that the amount of time invested in the interview appeared to affect the degree of recall, with more time resulting in more elaborate and comprehensive descriptions of early warning signs.
Several people able to construct a rough timeline for their deterioration still found providing details of when or for how long particular experiences had occurred difficult.
"it's just that I wish I could remember more so that I could help you… the dates… well obviously if you slide into your imagination, the dates will disappear" [P04].
The interviewer tried to help participants anchor their experiences by linking them to key calendar events (e.g. Christmas) and sketched out a written timeline with participants. Some appeared to find this a useful reference whereas others rarely referred to it. For some the struggle to remember took place within the context of wider cognitive difficulties.
"I can't remember little things… it has to be a big massive thing to remember, do you understand me?… I can't remember these little things what's happening" [P29].
Conversely, one participant felt that the early stage of her deterioration was a big thing, and thus memorable.
"it's like a big thing for me so usually I do remember it" [P20].
During the interviews, participants used various strategies to help them remember the process of their deterioration. Several participants had already given the topic some thought in readiness for the interview and came with handwritten notes as a cue. One participant referred to emails and letters written at the time of interest; another used her diary as a prompt during the interview. Given that participants already used a variety of strategies, it seems important for interviewers to be flexible and make use of them.
Reacting to deterioration
Conclusions
There was considerable variation in the attention participants had paid to risk factors and early signs of relapse, the ease with which they were able to recall them, and their reactions to them. Guided by the interviewer's open questions, most participants were able to remember at least some aspects of the early stages of their deterioration as the interview progressed. Use of a written timeline appeared to be helpful for some, whilst others employed their own recall strategies. A number of challenges to recall were outlined, such as the presence of residual psychotic symptoms, cognitive difficulties or a "sealing over" recovery style. The speed of deterioration affected identification of early signs, with a very abrupt or very gradual onset being particularly challenging.
Having identified the probable onset of relapse, there were often substantial barriers to seeking help from services. The infrequency of appointments with clinicians hindered early help seeking for some, whilst others found their efforts to directly access help were blocked, despite having experienced a clear deterioration in their mental health. A family or friend confidant was an important means of gaining assistance, although the supportive presence of significant others was not always available.
Clinical recommendations
Given the considerable variation in participants' experiences and circumstances, it is clear that early signs interventions need to be individually tailored. We have made several clinical recommendations, which may be summarised as follows:
When timing the intervention, weigh up level of insight versus ability to remember.

Flexibly use strategies, including the client's own, to prompt memories.

Be aware of potential challenges (e.g. social isolation, avoidant attachment style, high familial expressed emotion, sealing over recovery style) and work to overcome these in the intervention.

Therapeutically target experiences that are both early signs and accelerants of relapse (e.g. emotional response to life events, feeling overwhelmed by anomalous experiences, searching for meaning).

Where appropriate, emphasise medication adherence and stress reduction when relapse risk factors are present.

Use early signs interventions to increase service users' self-efficacy and sense of control (e.g. when reducing medication).

Respond promptly and pro-actively to help seeking.
Limitations
Although the sample size was larger than other qualitative research in this area, caution should be used when attempting to generalise findings to the whole psychosis population. The sample was diverse in terms of a number of demographic and clinical variables but certain groups may have been under-represented. A number of eligible service users declined to take part in the research (exact number unknown) and it is difficult to comment on the effect this may have had. As has been mentioned, in line with the study design, all participants had relapsed within the past six months which may have biased some of the conclusions (e.g. regarding barriers to help seeking). For practical reasons, none were out of contact with services. Finally, the study was conducted in English NHS services, so some of the results may only be applicable in this context.
Interviews were conducted and coded by a non-clinical researcher (EE), though the rest of the team had considerable experience of CMHTs and other clinical services. Since the aim of the research was to inform a specific type of intervention, this influenced the conduct and analysis of the interviews.
Unlike other studies, we did not interview participants' family or carers, although the results suggested that they often have an important role. Though we planned to do so only seven participants had high levels of contact with these individuals and, of these, some were unwilling for them to be approached. This limited our study to a particular perspective, if that of the critical group in terms of targeting relapse prevention interventions.
Future research
Firstly, a prospective investigation of the following putative early signs of relapse would be valuable: feeling overwhelmed by experiences; searching for meaning in experiences; subjective anomalous (basic symptom like) experiences. Secondly, the role of self-efficacy and other possible mediators of avoidant or maladaptive coping strategies in this process could be investigated. Thirdly, it would be worth prospectively comparing coping strategies of relapsers and non-relapsers in order to further examine effective coping strategies, reduce the skew towards ineffective relationships with services and eliminate distortions due to retrospective investigation. Fourthly, further investigation of the help seeking process in relapse is warranted, for example regarding the role of attachment style, and service related barriers to help seeking. Finally, given that a number of recommendations have been made in the current study, it would be valuable to incorporate them into an intervention and test its effectiveness in a randomised controlled trial.
Abbreviations
NHS:

National health service
DSM-IV:

Diagnostic and statistical manual of mental disorders (fourth edition)
ICD-10:

International statistical classification of diseases (tenth revision)
CPN:

Community psychiatric nurse
CMHT:

Community mental health team.
Declarations
Acknowledgements
We thank the study participants and the staff who facilitated recruitment. Funding was provided by the Medical Research Council. The funder did not have a role in: the study design; collection, analysis, and interpretation of data; in the writing of the manuscript; or in the decision to submit the manuscript for publication.
Authors' Affiliations
(1)
Clinical Psychology Department, Zochonis Building (2nd Floor), University of Manchester, Manchester, UK
(2)
Division of Health Research, Spectrum Centre for Mental Health Research, Furness building, University of Lancaster, Lancaster, UK
(3)
Institute of Brain Behaviour and Mental Health, Jean McFarlane Building, University of Manchester, Manchester, UK
Copyright
© Eisner et al.; licensee BioMed Central Ltd. 2014
This article is published under license to BioMed Central Ltd. This is an Open Access article distributed under the terms of the Creative Commons Attribution License (http://creativecommons.org/licenses/by/4.0), which permits unrestricted use, distribution, and reproduction in any medium, provided the original work is properly credited. The Creative Commons Public Domain Dedication waiver (http://creativecommons.org/publicdomain/zero/1.0/) applies to the data made available in this article, unless otherwise stated.