Research article

Open Access

Open Peer Review
This article has Open Peer Review reports available.
Common or distinct pathways to psychosis? A systematic review of evidence from prospective studies for developmental risk factors and antecedents of the schizophrenia spectrum disorders and affective psychoses
Received: 21 January 2015
Accepted: 14 July 2015
Published: 25 August 2015
The Erratum to this article has been published.
Abstract
Background
Identifying the unique and shared premorbid indicators of risk for the schizophrenia spectrum disorders (SSD) and affective psychoses (AP) may refine aetiological hypotheses and inform the delivery of universal versus targeted preventive interventions. This systematic review synthesises the available evidence concerning developmental risk factors and antecedents of SSD and AP to identify those with the most robust support, and to highlight remaining evidence gaps.
Methods
A systematic search of prospective birth, population, high-risk, and case-control cohorts was conducted in Medline and supplemented by hand searching, incorporating published studies in English with full text available. Inclusion/exclusion decisions and data extraction were completed in duplicate. Exposures included three categories of risk factors and four categories of antecedents, with case and comparison groups defined by adult psychiatric diagnosis. Effect sizes and prevalence rates were extracted, where available, and the strength of evidence synthesised and evaluated qualitatively across the study designs.
Results
Of 1775 studies identified by the search, 127 provided data to the review. Individuals who develop SSD experience a diversity of subtle premorbid developmental deficits and risk exposures, spanning the prenatal period through early adolescence. Those of greatest magnitude (or observed most consistently) included obstetric complications, maternal illness during pregnancy (especially infections), other maternal physical factors, negative family emotional environment, psychopathology and psychotic symptoms, and cognitive and motor dysfunctions. Relatively less evidence has accumulated to implicate this diversity of exposures in AP, and many yet remain unexamined, with the most consistent or strongest evidence to date being for obstetric complications, psychopathology, cognitive indicators and motor dysfunction. Among the few investigations affording direct comparison between SSD and AP, larger effect sizes and a greater number of significant associations are commonly reported for SSD relative to AP.
Conclusions
Shared risk factors for SSD and AP may include obstetric complications, childhood psychopathology, cognitive markers and motor dysfunction, but the capacity to distinguish common versus distinct risk factors/antecedents for SSD and AP is limited by the scant availability of prospective data for AP, and inconsistency in replication. Further studies considering both diagnoses concurrently are needed. Nonetheless, the prevalence of the risk factors/antecedents observed in cases and controls helps demarcate potential targets for preventative interventions for these disorders.
Keywords
Birth CohortObstetric ComplicationPopulation CohortSchizophrenia Spectrum DisorderAffective Psychos
Background
Accumulating evidence has identified childhood and adolescent developmental risk factors and antecedents for schizophrenia spectrum disorders (SSD) and affective psychoses (AP), but the extent to which these factors may be common or unique to each disorder remains unclear. In the context of recent evidence of shared genetic vulnerability for schizophrenia and bipolar disorder [1–5], and potential similarities in their neuropathology [6, 7], distinguishing shared versus unique features of the developmental pathways to these disorders is important for determining their pathogenesis and the development of preventative interventions. Antecedents of a disorder may be expressed as premorbid deviations in brain development, evident in subtle deficits in functioning and delayed developmental milestones that likely reflect early expression of pathology, while risk factors include various social or physical environmental exposures that may represent modifiable targets for prevention [8, 9]. The term 'risk factors' is applied here to those indicators that may constitute relatively passive markers of increased risk, whereas 'antecedents' is used to demarcate factors that are putatively indicative of active risk-modifying mechanisms or processes through which the illness outcome may arise. Nonetheless, this distinction between risk factors and antecedents remains arbitrary with respect to our understanding of the developmental pathway to SSD and AP; this review focuses on summarising the evidence for shared and distinct developmental profiles for these disorders, but does not address the distinction between risk-factors and antecedents directly.
Previous evidence suggests that some risk factors and antecedents may represent generalised precursors to a range of disorders, while others may be specific to SSD or to AP. For instance, childhood emotional and interpersonal deviance is associated with both SSD and AP [9, 10], whereas premorbid impairment in motor, language, and cognitive functioning [11, 12], obstetric complications [13, 14] and various environmental exposures [8, 15], have been more commonly associated with SSD than AP. However, prior reviews have focused on synthesising evidence only for a single diagnostic outcome rather than comparing the disorders directly. Longitudinal studies prospectively assessing risk factors and antecedents for SSD and AP during childhood or early adolescence provide a particularly sound basis for delineating the developmental trajectories of each disorder, avoiding potential recall bias inherent in retrospective reporting [16]. These studies predominantly use population-based (including birth) cohorts or nested case-control designs. Whilst the latter allow for greater control over potential confounders, the large non-selected samples utilised in population-based cohorts provide greater precision in effect size estimates [17] and minimise selection bias [18]. Routinely-collected administrative datasets are increasingly used in large-scale population studies as they provide access to a wealth of prospectively gathered developmental data for low-prevalence psychiatric outcomes such as SSD and AP, particularly in relation to demographic and perinatal factors [19–21]. Other prospective investigations have followed the development of children with a family history of SSD or AP, typically the offspring of affected mothers, using a "high-risk" design that enriches the study sample with individuals who later develop the disorder in question (e.g. [22–24]). High-risk studies offer the potential to explore gene-environment interactions; however, as only a minority of people with SSD or AP have a first- or second-degree relative with these disorders [25, 26], findings from these studies may not generalise to the majority without a family history.
The objective of this systematic review was to summarise the available evidence on risk factors and antecedents of SSD and AP from cohorts providing prospectively gathered data, to identify common and distinct factors characterising the risk profiles for SSD and AP, ascertain the prevalence of these factors in both cases and comparison groups, and ultimately highlight potential targets for universal and targeted preventative interventions. Retrospectively gathered data was not included in order to reduce the risk of reporting bias that is inherent in the use of such data. Risk factors were reviewed within three main categories: (i) conception, pregnancy, and birth risk factors, (ii) demographic and familial risk factors, and (iii) childhood and adolescent risk factors. Antecedents were considered within four categories: (i) social, emotional, and behavioural functioning, and psychosis symptoms, (ii) cognitive functioning, (iii) language functioning, and (iv) motor functioning and developmental motor milestones. For each category, we firstly present the effect sizes specific to each for these groups of disorders, to identify factors supported by the most robust evidence. A meta-analytic approach to synthesising this evidence was precluded because too few factors had been measured consistently across studies. Secondly, we highlight where potential risk factors or antecedents have not yet been examined or are available for just one group of disorders, so that future research can be directed to fill these gaps in knowledge.
Methods
This systematic review was designed and reported according to the guidance provided by the Preferred Reporting Items for Systematic Reviews and Meta-Analyses (PRISMA [27]; see Additional file 1).
Search strategy
Search terms (exp schizophrenia, schizophreni*, exp bipolar disorder, bipolar.tw, exp affective psychosis, birth cohort, population cohort, longitudinal study, prospective study, high-risk; limited to full-text, English language publications) were applied to Medline in July 2014, and supplemented by extensive hand searching of citations and reference lists to identify additional studies. ('exp' and '.tw' are Medline terms respectively signifying 'explode' and 'text word').
Study selection criteria
Studies were included if they satisfied the following criteria: (i) population or birth cohort studies, or case-control studies (including high-risk studies) where risk/antecedent measures were collected prospectively, (ii) measured antecedents and risk factors at mean age ≤15 years (in attempt to distinguish premorbid indicators from potential early symptoms/signs of illness [28]), (iii) diagnoses of SSD or AP obtained through standardised structured interview, hospital records or administrative registers, (iv) written in English, and (v) full text of the manuscript available. Studies excluded were those that relied on retrospective reports of exposures, did not provide a standardised or administrative psychiatric diagnosis, or examined indirect exposures (i.e., assessed only at the population rather than individual level). The decision to include or exclude studies was conducted in duplicate by two of the authors (LL and SLM).
Case and comparison groups
Case and comparison groups were defined by adult psychiatric diagnosis. Case groups comprised individuals diagnosed with SSDs (namely, schizophrenia, schizoaffective disorder, schizophreniform disorder, and other schizophrenia spectrum disorders) or APs (namely, bipolar disorder, mania, major depressive disorder with psychosis, and other affective psychoses). These groupings reflected the typical treatment of diagnoses within the primary studies included in the review – for example, a majority of studies included schizoaffective disorder as a SSD rather than AP. Where the primary study provided insufficient diagnostic information to be able to assign it to the SSD or AP outcome (e.g., 'first-episode psychosis'), the study was excluded from the review. Three types of comparison groups were considered, as shown in the supplementary tables: (i) population controls (i.e., all those in the sample who did not have a SSD or AP), (ii) other (non-SSD or non-AP) psychiatric diagnoses only, and (iii) healthy controls only.
Data extraction and analysis
Data extraction was conducted in duplicate by two of the authors (LL and SLM). Risk factors were reviewed within three main categories: (i) conception, pregnancy, and birth risk factors, (ii) demographic and familial risk factors, and (iii) childhood and adolescent risk factors. Antecedents were considered within four categories: (i) social, emotional, and behavioural functioning, and psychosis symptoms, (ii) cognitive functioning, (iii) language functioning, and (iv) motor functioning and developmental motor milestones. Each antecedent was further delineated by the age at assessment in order to characterise the developmental timing at which antecedents were apparent. Age was grouped according to those most commonly reported across studies, namely: (i) early childhood (0–5 years), (ii) middle childhood (6–12 years), and (iii) early adolescence (13–15 years). Where studies reported data that overlapped these age groups, the findings were allocated to the age bracket that incorporated the greater number of years (e.g., data reported in [29], spanning ages 3 to 9 years, were allocated to middle rather than early childhood).
Where available, adjusted effect sizes (odds ratios [ORs], risk ratios [RRs], hazard ratios [HRs], or incidence rate ratios [IRRs]) are reported as provided in the individual studies. For studies where adjusted effect sizes were not reported by the original manuscripts, estimated (unadjusted) ORs (calculated using proportions extracted from the primary studies) are presented. Where those proportions were not reported, we instead estimated the ORs from standardised mean differences (SMDs), F- or t-statistics, or regression coefficients (as per the Practical Meta-Analysis Effect Size Calculator: http://www.campbellcollaboration.org/resources/effect_size_input.php). As the majority of outcome data were dichotomous in nature, these effect sizes were estimated using ORs. For those studies that provided data permitting extraction of the prevalence rates of each risk factor/antecedent for each diagnostic group, these are also incorporated in the tables, indicating how common each risk factor/antecedent is in cases and controls.
To synthesise and evaluate qualitatively the strength of evidence available, and for ease of interpretation, the evidence from each study for risk factors and antecedents is summarized in Tables
1
and
2
using symbols that code: (i) study design (birth cohort, population cohort, high-risk cohort, or other non-high-risk case-control control); (ii) the largest reported or estimated significant effect size determined for each factor/antecedent, with grouping guided by the criteria of Rosenthal [
30
] and GRADEPro 2008 [
31
] and designated as large (OR/HR/RR/IRR: >5 [or <0.2 for reduced risk]), medium (OR/HR/RR/IRR: 2–5 [or 0.2–0.5]), small (OR/HR/RR/IRR: <2 [or >0.5]), or no statistically significant effect; and (iii) whether the effect is adjusted or unadjusted. Where both adjusted and unadjusted effects sizes were reported, only the adjusted data are presented in the Tables.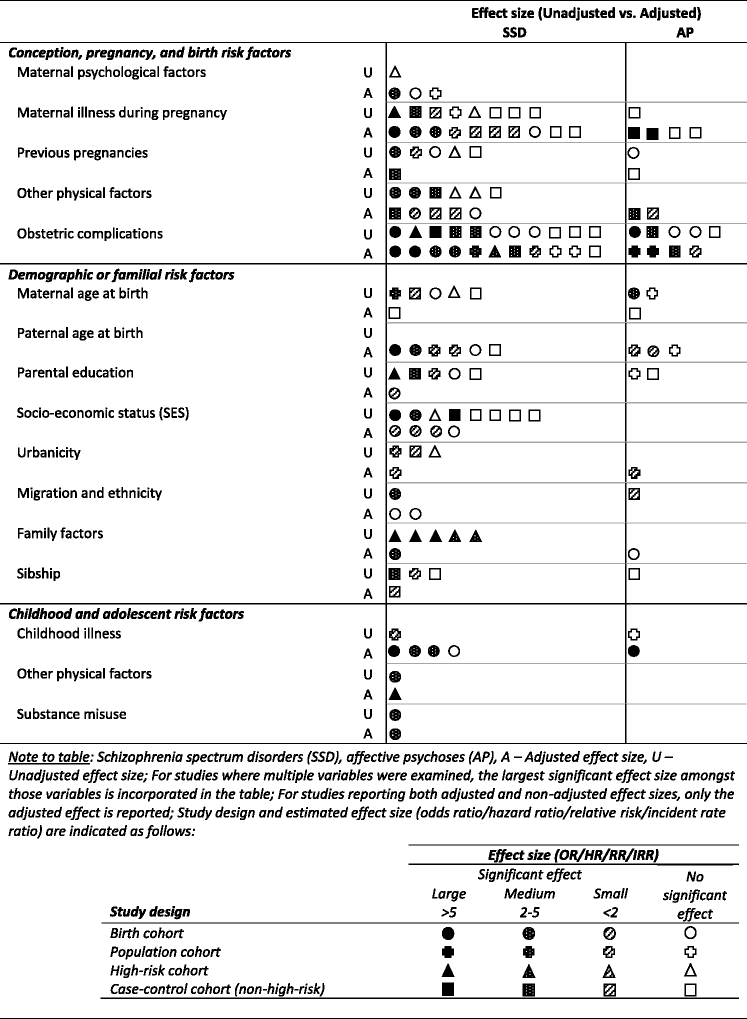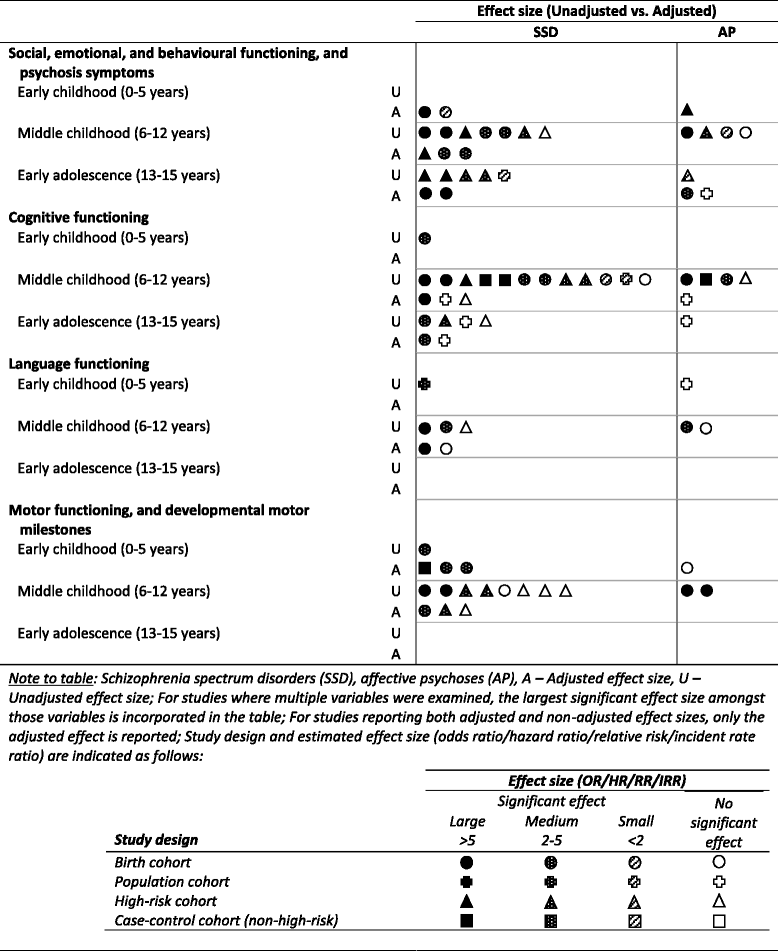 To reduce the risk of reporting bias, only data from prospective studies were synthesised and evaluated. While a formal quality assessment of the evidence from individual studies (including risk of bias) was beyond the scope of this review, the population/birth cohort studies typically provided greater precision in the effect estimates and less selection bias relative to the high-risk and case-control investigations. Thus, for each risk factor or antecedent category considered, we indicate in the text the number of cohorts of different design providing data, then present the evidence derived from cohorts providing data for both SSD and AP (permitting direct comparison), and additional evidence available from cohorts reporting solely on SSD or AP outcomes.
Results
Figure
1
presents a PRISMA flow chart summary of the search and review process, including reasons for study exclusion. The Medline search identified 1794 potential studies, with a further 75 studies identified through hand-searching. A total of 127 studies met inclusion criteria.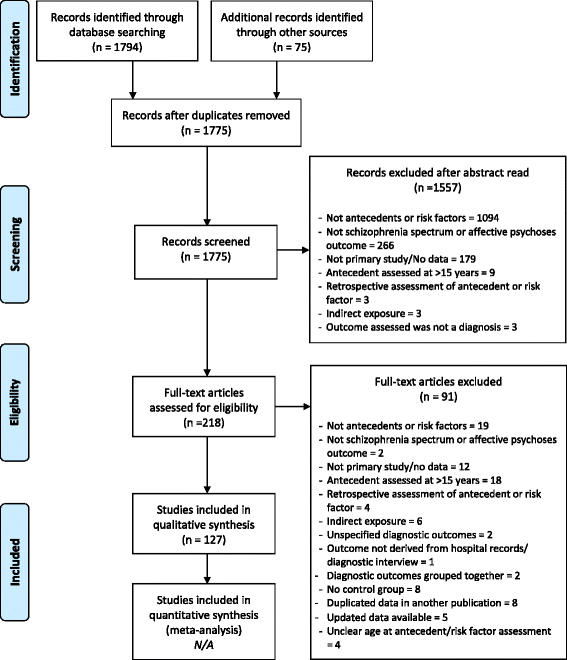 Tables 1 and 2 present the evidence for risk factors and antecedents, respectively; and, for each risk factor/antecedent category, the design of the cohorts and a synthesis of the findings reported by each study. Additional file 2: Tables S1-S4 provide detailed information from each study (reported by study citation) including sample size, diagnosis, age at outcome assessment (diagnosis), age at exposure assessment (risk factor/antecedent), risk factor/antecedent measure, prevalence rates for the outcome, and effect sizes for cases relative to comparison group. Additional file 3: Table S5 provides further details regarding the study cohort and design for each citation, measurements used for diagnostic outcome and exposure variables and, where applicable, any confounding variables adjusted in the analyses.
Discussion
This systematic review aimed to elucidate common and distinct risk factors and antecedents characterising the developmental profiles of SSD and AP, which are groups of disorders that share both phenotypic and genetic features that suggest some overlap of aetiological mechanisms. The available evidence indicates that individuals who develop SSD experience diverse premorbid developmental deficits and risk exposures, spanning the prenatal period through early adolescence, although the effects are typically subtle. There is relatively less evidence supporting these risk exposures and patterns of premorbid functioning in AP, largely reflecting limited prospective investigation of this outcome. Few studies are available that afford direct comparison between the two groups of disorders within the same cohort. Amongst these studies, an overall trend emerges for larger effect sizes and a greater number of significant associations for SSD than AP. While this suggests some degree of specificity of many factors for SSD, a lack of available prospective data examining AP limits any conclusions regarding such specificity.
Conclusions
This review highlights a striking gap in the literature regarding risk factors and antecedents for AP, and also highlights risk factors/antecedents of SSD that would benefit from further investigation. Whilst several risks associated with SSD are identified, it remains unclear whether these also characterise AP or are SSD-specific. Further, reliable comparisons from the evidence regarding specificity are hampered by lack of replication. Many of the factors investigated have previously been shown to increase risk for multiple disorders (e.g., [128, 164]), but AP is not often among those reported. This constitutes a significant limitation in the current evidence base in light of data from genetic studies underlining potential similarities in the aetiology of SSD and AP. Future research requires the investigation of AP and SSD concurrently to establish whether these similarities extend to common aetiological pathways for some individuals with these diagnoses. The low prevalence of both disorders calls for population-based approaches to provide the necessary power to detect effects, as well as to capture the full spectrum of premorbid exposures and developmental deviations that may characterise those who later develop either disorder. From an intervention perspective, applying a longitudinal framework to these investigations will further enhance scope to determine how early developmental deviations may be detected, or at which point during development they are most sensitive for indicating risk for later SSD or AP.
Declarations
Acknowledgements
This work was supported by funding from an Australian Rotary Health Research Grant (2010) awarded to KRL and MJG, which provided salary support for LL. KRL and MJG gratefully acknowledge the contribution of Elizabeth Moore to securing this research grant. KRL, SLM, VJC, AR, and FH were supported by funding from the Schizophrenia Research Institute, Australia, utilising infrastructure funding from the New South Wales (NSW) Ministry of Health. MJG was supported by a National Health and Medical Research Council of Australia R. D. Wright Biomedical Career Development Fellowship (1061875), and a grant from the Netherlands Institute of Advanced Studies in the Humanities and Social Sciences (NIAS). Additional support for the work was provided by a National Health and Medical Research Council Project Grant (APP1058652) and an Australian Research Council's Linkage Project (LP110100150), with the NSW Ministry of Health, NSW Department of Education and Communities, and the NSW Department of Family and Community Services representing the Linkage Project Partners.
Open Access This article is distributed under the terms of the Creative Commons Attribution 4.0 International License (http://creativecommons.org/licenses/by/4.0/), which permits unrestricted use, distribution, and reproduction in any medium, provided you give appropriate credit to the original author(s) and the source, provide a link to the Creative Commons license, and indicate if changes were made. The Creative Commons Public Domain Dedication waiver (http://creativecommons.org/publicdomain/zero/1.0/) applies to the data made available in this article, unless otherwise stated.
Authors' Affiliations
(1)
Research Unit for Schizophrenia Epidemiology, School of Psychiatry, University of New South Wales, Sydney, Australia
(2)
Schizophrenia Research Institute, Sydney, Australia
(3)
Department of Forensic and Neurodevelopmental Sciences, Institute of Psychiatry, Psychology & Neuroscience, King's College London, London, UK
(4)
Black Dog Institute, Prince of Wales Hospital, Sydney, Australia
(5)
Department of Psychiatry, Monash University, Melbourne, Australia
(6)
Neuroscience Research Australia, Sydney, Australia