Research article
Open Access
Open Peer Review
This article has Open Peer Review reports available.
The theoretical and practical determination of clinical cut-offs for the British Sign Language versions of PHQ-9 and GAD-7
BMC Psychiatry
BMC series – open, inclusive and trusted
2016
16:372
Received: 26 January 2016
Accepted: 17 October 2016
Published: 3 November 2016
Abstract
Background
The PHQ-9 and the GAD-7 assess depression and anxiety respectively. There are standardised, reliability-tested versions in BSL (British Sign Language) that are used with Deaf users of the IAPT service. The aim of this study is to determine their appropriate clinical cut-offs when used with Deaf people who sign and to examine the operating characteristics for PHQ-9 BSL and GAD-7 BSL with a clinical Deaf population.
Methods
Two datasets were compared: (i) dataset (n = 502) from a specialist IAPT service for Deaf people; and (ii) dataset (n = 85) from our existing study of Deaf people who self-reported having no mental health difficulties. Parameter estimates, with the precision of AUC value, sensitivity, specificity, positive predicted value (ppv) and negative predicted value (npv), were carried out to provide the details of the clinical cut-offs. Three statistical choices were included: Maximising (Youden: maximising sensitivity + specificity), Equalising (Sensitivity = Specificity) and Prioritising treatment (False Negative twice as bad as False Positive). Standard measures (as defined by IAPT) were applied to examine caseness, recovery, reliable change and reliable recovery for the first dataset.
Results
The clinical cut-offs for PHQ-9 BSL and GAD-7 BSL are 8 and 6 respectively. This compares with the original English version cut-offs in the hearing population of 10 and 8 respectively. The three different statistical choices for calculating clinical cut-offs all showed a lower clinical cut-off for the Deaf population with respect to the PHQ-9 BSL and GAD-7 BSL with the exception of the Maximising criteria when used with the PHQ-9 BSL. Applying the new clinical cut-offs, the percentage of Deaf BSL IAPT service users showing reliable recovery is 54.0 % compared to 63.7 % using the cut-off scores used for English speaking hearing people. These compare favourably with national IAPT data for the general population.
Conclusions
The correct clinical cut-offs for the PHQ-9 BSL and GAD-7 BSL enable meaningful measures of clinical effectiveness and facilitate appropriate access to treatment when required.
Keywords
British Sign LanguageImproving Access to Psychological TherapiesIAPTBSLPHQ-9GAD-7
Background
The PHQ-9 [1] and the GAD- 7 [2] are two of the standard instruments mandated for use within the IAPT (Improving Access to Psychological Therapies) national (England) NHS (National Health Service) programme. IAPT is a large-scale initiative within the NHS (National Health Service) in England aimed at redressing long-standing imbalances between psychological therapy demand and supply. IAPT services deliver approved psychological interventions to address common mental health problems in primary care settings. The PHQ-9 [1] and the GAD- 7 [2] are used as screening and assessment tools, initially to indicate caseness (clinical threshold) as one indicator of eligibility for service. They are subsequently used at each session to assess progress leading to measurement of recovery and discharge ([3] p15). Patient and service data are also collected and analysed on a national basis ([3] p16).
Since December 2011, an adapted version of IAPT has been available, in a small number of geographical areas, to Deaf people who are users of British Sign Language (BSL) [4], henceforth BSL-IAPT. BSL is not a visual, transliterated version of spoken English [5]. It is an independent, fully grammatical visual-spatial language whose indigenous minority status was formally recognised by the UK government in 2003 [6] and its legal position strengthened in Scotland in 2015 [7]. Deaf people's cultural/linguistic status is conventionally marked by the use of upper case 'D' (Deaf), rather than by lower case 'd' (deaf) which instead indicates being deaf without BSL use or its associated cultural identity [8]. IAPT for Deaf BSL users is particularly important because Deaf people are more than twice as likely to experience mental health problems than hearing people [9]. Deaf people's access to health services is also much poorer than hearing people's because of limited availability of information and treatment delivery in BSL [10, 11] and difficulties at point of access to services. Failure of services to address linguistic and cultural needs of Deaf people has been widely reported in the UK and in other countries [12].
BSL-IAPT uses the standard IAPT instruments, including PHQ-9 and GAD-7, but in their validated BSL translated form. These translations were carried out by authors 3, 4, 5 following strict protocols agreed with the originators of the instruments, and construct validity, internal reliability and test-retest reliability were found acceptable [13].1 The BSL versions of the standard instruments are delivered on screen, as video-recordings, because BSL is not a language with a written form. Although PHQ-9 BSL and GAD-7 BSL are now in current use, the BSL-IAPT service have used them in conjunction with the clinical cut-off scores adopted by IAPT ([3] p22): these scores were derived from studies that have only involved hearing populations using the English versions.
However, as is the case with any translated version of a standard instrument, the clinical cut-off that is in use for one cultural-linguistic population may not be appropriate for another; it cannot be assumed to have the same sensitivity and specificity as that for the population on which it was originally validated [14]. Field testing in the linguistic and cultural population in which the translated version is applied is required not only to measure operating characteristics of reliability and validity [15–17], but also to establish whether the clinical cut-off is the same or different. Such testing has been carried out for many translations of GAD-7 and PHQ-9 into languages other than English [18] and also with respect to English versions used with populations where there are cultural differences or particular distinguishing characteristics e.g. a group in another English-speaking country, one with a specific illness or one based in primary care [19–22].
The existence of a large dataset of Deaf patients who were referred to BSL-IAPT between December 2011 and February 2015 (n = 791), including the use of reliability-tested, standard BSL versions of the PHQ-9 and GAD-7, presented a unique opportunity to investigate the clinical cut-offs of the standard instruments in BSL when used with a primary care population for purposes of assessment and treatment. This paper reports the operating characteristics for PHQ-9 BSL and GAD-7 BSL and considers how different approaches to balancing sensitivity and specificity affect the selection of cut-offs. In this context sensitivity is the percentage of correctly identified unhealthy people, and specificity is the percentage of correctly identified healthy people. The proposed cut-offs are then retrospectively applied to the data from the Deaf BSL users seen by BSL-IAPT to consider how they would have affected eligibility to the service through the measure of 'clinical caseness' ([3] p39) relative to the English cut-offs. They are also used to calculate 'recovery' as defined by the IAPT national programme ([23] p3), 'reliable improvement/reliable deterioration' ([23] p4) and 'reliable recovery' ([23] p5, 25). A summary of the demographic characteristics of the datasets are reported so comparability between them can be judged.
Methods
Secondary data analysis
This study involves secondary data analysis of the two datasets: (i) BSL-IAPT clinical dataset; and (ii) dataset of self-reported well Deaf people derived from a previous study. The anonymised BSL-IAPT clinical dataset comprises all those referred from the inception of the service (December 2011) to February 2015 (n = 791) and is compared against the study inclusion and exclusion criteria to identify Dataset 1 (n = 502). As an IAPT service provider, BSL-IAPT is permitted to hold records of its clients' characteristics, adherence and outcomes in accordance with the IAPT recommended data fields and client data security arrangements. Dataset 2 is a comparator group (n = 85) of Deaf people from our previous study of the validity and reliability of the PHQ-9 BSL and GAD-7 BSL [13]. These data were collected in 2011/2012 in a form that does not permit individual identification of participants, therefore available data on participant characteristics is restricted to those collected at the time and retrospective collection of further participant characteristics was not possible. The comparator group self-reported having no mental health difficulties in the 12 months prior to the study and none were a current patient under mental health services.
In calculating clinical cut-offs, some studies have evaluated PHQ-9 and GAD-7 against an alternative method of assessment for the same cohort e.g. a clinical interview such as SCID [24]. This was not an option because of the anonymous status of data to which we had access and the limits of our ethical approval. Therefore, our design compared the two datasets of self-defined 'well' Deaf people with 'not well' Deaf people, the latter defined as such by virtue of having been assessed by a MHP (Mental Health Practitioner) as eligible for therapy through IAPT. The analysis sought to define how well the two tests discriminated between the two groups (Dataset 1 and Dataset 2).
Materials
The nine questions of the PHQ-9 score the nine DSM-IV criteria for depression by a frequency scale from 0 to 3 and the instrument is most commonly scored by the simple summing of the questions to give an overall total of 0 to 27. The originators of the instrument established a score of 10 as the clinical cut-off for moderate depression in the English version [1], measured against the 'gold standard' of an MHP interview. This score yielded a sensitivity of 88 %, a specificity of 88 % and a positive likelihood ratio of 7.1. GAD-7 is scored by a frequency scale from 0 to 3 for each item and is also most commonly totalled to give a score between 0 and 21. It was validated against other health measures and against an MHP interview. A clinical cut-off of 10 was identified against the MHP interview diagnosing generalised anxiety disorder (GAD) with a sensitivity of 89 % and a specificity of 82 % [2]. However, a later study [25] evaluated GAD-7 as a broader instrument to test for any anxiety disorder and determined an acceptable AUC of 0.86. From this AUC, a lower cut-off of 8 for any anxiety disorder was recommended, which gave a sensitivity of 77 %, a specificity of 82 % and a positive likelihood ratio of 4.4. This lower cut-off was the one adopted by IAPT to sit alongside that for the PHQ-9 ([3] p22).
We note that there are, to date, no published analyses of the operation of the clinical cut-off scores for both instruments with respect to the IAPT population in general. Patient characteristics in this population, in comparison with those on which the original cut-off scores for the English versions were originally derived, may indicate that a revision of the cut-off scores currently in use in IAPT services is required. However for the purposes of this study, we use the published IAPT-recommended cut-off scores.
Ethics
Ethical permission was sought, and approved by, the Proportionate Review Sub-committee of NRES (National Research Ethics Service) Ref: 14/LO/2234 for transfer of the anonymised Dataset 1 to the research team at the University of Manchester for the purpose of secondary data analysis. The people whose data was held within Dataset 2 had given online consent specifically for secondary data analysis within other studies, in addition to consent for the study during which it was first collected. Ethical permission had been sought and approved at the time of its collection through NRES Ref: 11/YH/0180.
Participants
Figure
1
shows how the 791 people referred to BSL-IAPT were checked against the study inclusion and exclusion criteria to identify Dataset 1 (
n
 = 502) and, within that, the cohorts used for each calculation. The inclusion criteria were that an individual was a Deaf sign language user, aged 16 years or over, had accessed BSL-IAPT services since December 2011, had received a step 2 or 3 service
2
[
26
] and had attended a minimum of one therapist contact session. The 791 individuals referred to BSL-IAPT included 40 people who were not BSL users and were primarily spoken language users, two young people who were 14 and 15 years old, but had been assessed as being suitable to be seen by the adult service, those people who had been clinically judged not suitable for therapy through IAPT and those people who had had no appointment. These people were excluded. Of the latter group, the most common reason for no appointment was because the IFR (individual funding request) submitted for the person to attend a specialist service had been declined by the CCG (clinical commissioning group) or a decision was still pending. This reason is only applicable to referrals since Autumn 2014 as before this time, commissioning arrangements were different and the service had been commissioned as a whole rather than funding being sought for each individual referral [
4
].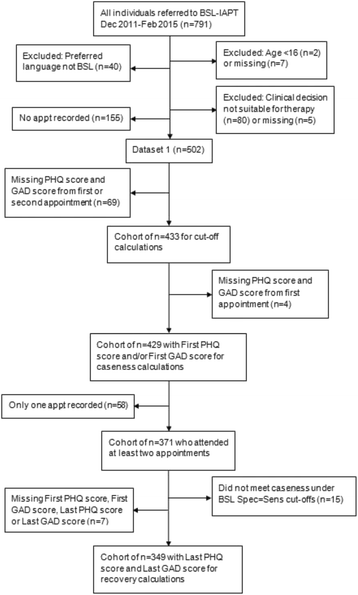 Analysis
The data were managed and analysed using IBM SPSS Statistics Version 22. The PHQ-9 and GAD-7 total scores were calculated using the guidelines in the IAPT Handbook ([3] p29), which allows the test still to be considered valid with up to two missing values. In such instances, one or two missing values can be replaced by a pro-rata value calculated by taking the mean of the 7 or 8 existing values. The total score is then calculated by 9 [mean value]. Preparatory sample size calculations were carried out based on Gilbody et al. [22], a study which observed a sensitivity of 91.7 % and specificity of 78.3 % for PHQ-9 as a screening tool for depression in 93 patients. We assumed a prevalence rate of 33 % for anxiety and/or depression in the Deaf population based on the well-cited Kvam et al. study [9] rather than more general estimates of mental health difficulties in the Deaf population. Following the same specificity and sensitivity as in the Gilbody et al. study [22], we estimated that a 90 % CI for an AUC to within +/−0.1 would require a sample size of at least 117 (39 depressed and 78 not-depressed patients). This calculation suggested that the numbers in the respective datasets would be sufficient.
Where new cut-offs have been determined for different populations, it is uncommon for authors to state clearly the statistical decisions based on clinical context that influenced the choice of cut-off. This includes studies where new cut-offs have been determined within different linguistic/cultural populations following translation.
The original papers determining PHQ-9 [1] and GAD-7 [2, 25] cut-offs did not specify exactly how they made a statistical choice between, for example, Maximising (Youden index) [27] or by Equalising sensitivity and specificity when they were choosing their cut-off. Kroenke et al. however do state that 'at a GAD-7 cut-point of 8 or greater, sensitivity and specificity approached or exceeded 0.75 for all disorders and the positive likelihood ratio exceeded 3.0. The likelihood ratio is similar to that of most measures used to screen for depression in primary care.' ([25] p321). It seems likely that, in their later review [28], they also used a cost function equalising sensitivity and specificity, though they do not state this explicitly.
For both PHQ-9 BSL and GAD-7 BSL, an AUC value with 95 % CI based on distributional theory was calculated. Different misclassification cost functions (e.g. Maximising, Equalising sensitivity and specificity) were then used to calculate cut-offs and measure sensitivity, specificity, error rate and positive likelihood ratio. Considering the discussions about cost function by Kroenke et al. [28] and Löwe et al. [29], we also calculated a cut-off which considered false negatives to be twice as bad as false positives (FN:FP = ~1:2).
Bootstrapping of the sample was used to estimate variability (i.e. 95 % CI) for cut-off values. Although the results for the different decisions are presented to show the variation in psychometric properties when different cut-offs are used, the cut-off proposed for future use is that which matches the conditions used by the originators of the tool i.e. Sensitivity = Specificity [28]. The bootstrapped 95 % CI for the new BSL cut-off was compared with the English cut-off for each test and a p value was calculated to see if there was a statistically significant difference between the clinical cut-off values.
The standard measures defined by IAPT were used in the analysis. 'Caseness' ([3] p39) pertains to entry into the service: an individual is defined as having reached caseness if they have a score equal to or higher than the cut-off on PHQ-9 and/or GAD-7 at assessment. The second IAPT-specific measure is 'recovery' ([23] p3): this is said to have been reached when a client's PHQ-9 and GAD-7 scores both fall below the clinical cut-off and they were at 'caseness' at intake. Gyani et al. [30], in their detailed analysis of client data from the first year of IAPT operation, highlighted that 'this measure does not take into account whether the observed change is greater than the measurement error of the scales' ([30] p599). Additionally, a small improvement taking an individual from just above to just below the clinical cut-off is classified as recovery, whereas an individual who started with a high score on one or both instruments and has greatly improved, but did not fall below cut-off, is not counted. The additional use of a formula to calculate a reliable change index (RCI) [31], equivalent to a score change of at least twice the standard error, was therefore proposed by Gyani et al. [ibid]. The RCI enables the quantification of 'reliable improvement' and 'reliable deterioration' i.e. a score change larger than the RCI signals a clinically significant change. This measure, when combined with 'recovery', enables the identification of those individuals who have 'reliably recovered' i.e. shown both 'recovery' and 'reliable improvement'. IAPT have recently moved to adopt the use of 'reliable recovery' alongside 'recovery' [23, 32]. Following this lead, the reliable change indices (RCI) for PHQ-9 BSL and GAD-7 BSL were calculated using Jacobson and Truax's criteria formula [31]. The measure of reliability used in the calculation was the measure of internal reliability, Cronbach's alpha: a choice supported by Evans et al. [33] and previously calculated by authors 3, 4, 5 [13].
The newly identified cut-offs and reliable change indices for PHQ-9 BSL and GAD-7 BSL were then retrospectively applied to Dataset 1 to calculate how many of the clients reached caseness, recovery and reliable recovery and how many showed reliable improvement or reliable deterioration. Reliable improvement is defined as a fall in score for one instrument greater than the RCI, whilst the score for the other instrument either also reliably improves or does not show reliable change. Reliable deterioration is the opposite; a rise in score for one instrument whilst the other instrument also shows reliable deterioration or no reliable change. Any other combination of score changes (e.g. one instrument shows reliable change, but the other shows reliable deterioration, or both show no reliable change) is labelled as no reliable change. Additional analysis of Dataset 1 allowed characterisation of the cohort in terms of demographics and origin of referral.
Results
Population characteristics
Datasets 1 and 2 were compared in respect of the available demographic descriptors to judge whether the groups were comparable (Table
1
). Gender, age and ethnicity were available for both datasets and showed a similar male/female split, mean age (Dataset 2 was slightly skewed towards younger age brackets) and the proportion of respondents/clients who indicated that they were of White-British ethnicity. The question on disability to the participants in Dataset 2 did not exclude being deaf. Dataset 2 contained a higher proportion with a declared disability compared to Dataset 1. In the latter groups, type of disability was broken down so being deaf could be excluded and it was variable whether individuals indicated being deaf as a disability: this is likely to be the same for Dataset 2, although this cannot be confirmed from the available data.
Table 1
Description of Datasets 1 and 2 with respect to demographic characteristics
Demographic

Dataset 1 (n = 502)

Dataset 2 (n = 85)

Number/Valid number

%

Number/Valid number

%

Female gender

303/502

60.4

49/84

57.6

Age range

16–80/502

22–68/83

Mean age

42 (13.2 SD)

40

Ethnicity White-British

358/425

84.2

74/83

89.2

Religious belief Christian

140/215

65.1

Sexual orientation Heterosexual

266/322

82.6

Relationship: married/partner

151/376

40.2

Relationship: single

153/376

40.7

Relationship: divorced/widowed

72/376

19.1

National Identity English

143/149

96.0

Declared disability

45/502

9.0a

28/83

33.7b

Has long-term health condition

83/374

22.2

Prescribed psychotropic medication

175/435

40.2

Receiving sick pay

16/434

3.7

In paid employment

110/433

25.4

Previously accessed Standard IAPT

219/502

43.6

Provisional diagnosis depression

120/414

29.0

Provisional diagnosis anxiety

49/414

11.8

Provisional diagnosis mixed anxiety and depression

208/414

50.2

Provisional diagnosis other

37/414

8.9

North West Region

323/502

64.3

Primary care referral

192/502

38.2

Self-referral

205/502

40.8

Other referral source

105/502

20.9
Establishing clinical cut-offs and reliable change indices
It was decided to match the choice made by the originators of the English instruments and recommend the cut-offs corresponding to sensitivity = specificity, thus allowing easier comparisons between users of the different language versions. This gives a PHQ-9 BSL clinical cut-off of 8 (in comparison to 10 for the original English version) and, for the GAD-7 BSL, a clinical cut-off of 6 (in comparison to 8 for the original English version). T-tests examined whether the English PHQ-9 and GAD-7 cut-offs (Equalising) are the same as PHQ-9 BSL and GAD-7 BSL (Equalising), based on 1000 bootstrap replicates to gain a 95 % CI for the cut-offs. These tests gave strong evidence (p = 0.0003, p = 0.0002 respectively) against the hypothesis that they are equal [34]. The conclusion was that the new cut-offs for PHQ-9 BSL and GAD-7 BSL are significantly different from the English cut-offs.
Caseness, recovery, reliable change and reliable recovery
The lower cut-offs for the BSL instruments mean that a larger proportion of those referred would have reached caseness and therefore potential eligibility for therapy under the service.
78.3 % of clients showed reliable improvement using the English reliable change index, compared to 76.5 % using the BSL reliable change index. This drop is due to the RCI being slightly higher for the BSL instruments: a function of the lower internal reliability as measured by Cronbach's alpha. The need for a bigger change on the BSL instruments in order to register as a clinically significant change also affects the number who showed reliable deterioration: 3.5 % using the English RCI compared to 2.7 % using the BSL RCI.
As would be expected, the measure of 'reliable recovery' shows the same trend as the measure of 'recovery': that the lower cut-offs for the BSL instruments indicate that a lower percentage of clients have recovered under this measure.
Conclusions
The primary aim of this research was to explore the operating characteristics of the PHQ-9 BSL and GAD-7 BSL instruments within IAPT in order to improve reliability and quality when delivering therapies to Deaf people and using the BSL instruments. Appropriate clinical cut-offs for these instruments are now established for Deaf BSL users. Assessment of the clinical effectiveness of BSL-IAPT, both for clinical practice and to allow accurate comparison with mainstream IAPT services, can now be made. Comparison is important in the national (English) monitoring of IAPT services through the mandatory data that flows upwards to the HSCIC (Health and Social Care Information Centre) [35].
Footnotes
1
A third instrument, WSAS (the Work and Social Adjustment Scale) [52] was also translated alongside the PHQ-9 and GAD-7 [13] and is in use by BSL-IAPT. It is not addressed in this paper because the originators did not intend it to be used with a clinical cut-off as a standalone diagnostic and recovery tool. Rather, it is intended as 'a self-report scale of functional impairment attributable to an identified problem' [52].
2
Step 2 and Step 3 are part of the stepped care programme set out in the NICE guidelines and implemented within the IAPT programme [26]. Step 2 encompasses low-intensity interventions such as guided self-help and encouragement from a psychological well-being practitioner (PWP) and Step 3 is defined as high-intensity interventions such as weekly, one-to-one therapy sessions.
Abbreviations
AUC:

Area Under the Curve
BSL:

British Sign Language
CCG:

Clinical Commissioning Group
FN:FP = ~1:2:

False Negatives considered twice as bad as False Positives
GAD-7:

Generalized Anxiety Disorder 7-Items Scale
IAPT:

Improving Access to Psychological Therapies
IFR:

Individual Funding Request
PHQ-9:

Patient Health Questionnaire
RCI:

Reliable Change Index
Declarations
Acknowledgements
We thank SignHealth and the BSL Healthy Minds programme for their co-operation in providing the data for these analyses and the support of our work.
Funding
This study is funded by the National Institute for Health Research's Health Services and Delivery Research Programme (Grant number: 12/136/79).
This report/article presents independent research commissioned by the National Institute for Health Research (NIHR). The views expressed in this publication are those of the author(s) and not necessarily those of the NHS, the NIHR or the Department of Health.
Availability of data and materials
The datasets analysed during the current study are not publicly available because of the terms of our data transfer agreements from clinical services, but are available from the corresponding author on reasonable request.
Authors' contributions
KR, MP, KL, and AY contributed to the concept and design of the study, where AY is the chief investigator. Data were analysed by RB and MP. All authors contributed in preparing this manuscript and approved the final version to be published.
Competing interests
The authors declare that they have no competing interests.
Consent for publication
Not applicable.
Ethics approval and consent to participate
Ethical permission was sought from, and approved by, the Proportionate Review Sub-committee of NRES (National Research Ethics Service) Ref: 14/LO/2234 for transfer of the anonymised Dataset 1 to the research team at the University of Manchester for the purpose of secondary data analysis. The people whose data was held within Dataset 2 had given online consent specifically for secondary data analysis within other studies, in addition to consent for the study during which it was first collected. Ethical permission had been sought and approved at the time of its collection through NRES Ref: 11/YH/0180.
Open AccessThis article is distributed under the terms of the Creative Commons Attribution 4.0 International License (http://creativecommons.org/licenses/by/4.0/), which permits unrestricted use, distribution, and reproduction in any medium, provided you give appropriate credit to the original author(s) and the source, provide a link to the Creative Commons license, and indicate if changes were made. The Creative Commons Public Domain Dedication waiver (http://creativecommons.org/publicdomain/zero/1.0/) applies to the data made available in this article, unless otherwise stated.
Authors' Affiliations
(1)
Social Research with Deaf People Group, Division of Nursing, Midwifery and Social Work, School of Health Sciences, University of Manchester, Manchester Academic Health Science Centre, Manchester, UK
(2)
Division of Nursing, Midwifery and Social Work, School of Health Sciences, University of Manchester, Manchester Academic Health Science Centre, Manchester, UK