Correction to: Effectiveness of aripiprazole once-monthly in schizophrenia patients pretreated with oral aripiprazole: a 6-month, real-life non-interventional study
Received: 29 November 2018
Accepted: 29 November 2018
Published: 14 December 2018
Correction to: BMC Psychiatry (2018) 18:365
https://doi.org/10.1186/s12888-018-1946-x
Following publication of the original article [1], the authors notified us that the color labelling in Fig. 4 was incorrect.
The corrected Fig.
4
is presented below.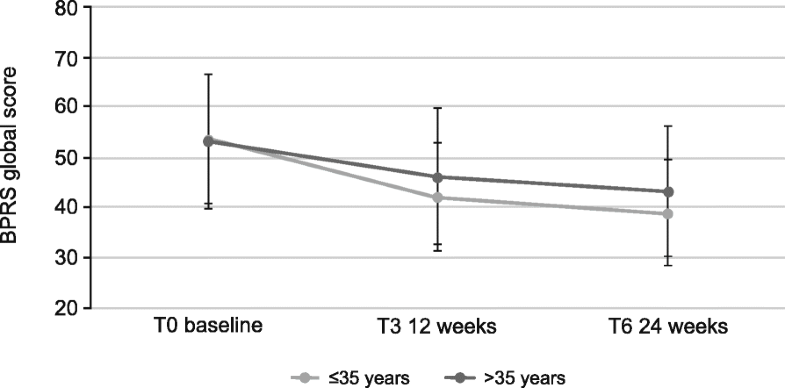 Open AccessThis article is distributed under the terms of the Creative Commons Attribution 4.0 International License (http://creativecommons.org/licenses/by/4.0/), which permits unrestricted use, distribution, and reproduction in any medium, provided you give appropriate credit to the original author(s) and the source, provide a link to the Creative Commons license, and indicate if changes were made. The Creative Commons Public Domain Dedication waiver (http://creativecommons.org/publicdomain/zero/1.0/) applies to the data made available in this article, unless otherwise stated.
(1)
Klinik für Psychiatrie und Psychotherapie, Zentrum für Psychosoziale, Medizin, Universitätsklinikum Hamburg-Eppendorf, Martinistrasse 52, 20, ,246 Hamburg, Germany
(2)
Lundbeck GmbH, Ericusspitze 2, 20, ,457 Hamburg, Germany
(3)
ANFOMED GmbH, Röttenbacher Str. 17, 91,096, Möhrendorf, Germany
(4)
Department of Psychiatry, The Zucker Hillside Hospital, Northwell Health, 75–59 263rd St, Glen Oaks, NY 11004, USA
(5)
Department of Psychiatry and Molecular Medicine, Hofstra Northwell School of Medicine, 500 Hofstra Blvd, Hempstead, NY 11549, USA
(6)
Department of Child and Adolescent Psychiatry, Charité Universitätsmedizin, Augustenburger Platz 1 (Mittelallee 5A), 13, ,353 Berlin, Germany
Schöttle, et al. Effectiveness of aripiprazole once-monthly in schizophrenia patients pretreated with oral aripiprazole: a 6-month, real-life non-interventional study (2018). 2018;18:365. https://doi.org/10.1186/s12888-018-1946-x.