Research article
Open Access
Open Peer Review
This article has Open Peer Review reports available.
Understanding psychiatric institutionalization: a conceptual review
Received: 11 December 2012
Accepted: 12 June 2013
Published: 18 June 2013
Abstract
Background
Since Goffman's seminal work on psychiatric institutions, deinstitutionalization has become a leading term in the psychiatric debate. It described the process of closure or downsizing of large psychiatric hospitals and the establishment of alternative services in the community. Yet, there is a lack of clarity on what exactly the concept of institutionalization means in present-day psychiatry. This review aims to identify the meaning of psychiatric institutionalization since the early 1960s to present-day.
Method
A conceptual review of institutionalization in psychiatry was conducted. Thematic analysis was used to synthesize the findings.
Results
Four main themes were identified in conceptualizing institutionalization: bricks and mortar of care institutions; policy and legal frameworks regulating care; clinical responsibility and paternalism in clinician-patient relationships; and patients' adaptive behavior to institutionalized care.
Conclusions
The concept of institutionalization in psychiatry reflects four distinct themes. All themes have some relevance for the contemporary debate on how psychiatric care should develop and on the role of institutional care in psychiatry.
Keywords
Psychiatric InstitutionalizationDe-institutionalizationRe-institutionalizationMental Health Care
Background
In the 19th and early 20th century, asylums were the main form of care for patients with severe mental illness (SMI). Illustrating the problematic effects of asylums, Goffman, coined the term "total institution" from a sociological perspective in his seminal work Asylums [1]. The concept "total institution" refers to the life of psychiatric patients in institutional settings and originated from his ethnographic fieldwork in 1955–6 in a federal institution of over 7,000 inmates in Washington D.C, United States. His objective at the time was to learn about the social world of the hospital inmates by subjectively experiencing their world. He emphasized that mental hospitals were prison-like institutions although the members had not broken the law. Similarly, he defined 'psychiatric institutions' as a closed system apart from the rest of society. He claimed that patients received custodial care and typically lived all aspects of their life in a psychiatric hospital with limited access to the outside world. In a total institution, each phase of the patient's daily activities was carried out in the immediate company of a large number of other people. All activities were tightly scheduled and the series of performed activities was enforced from the top. Patients' lives were dictated by institutional routine and isolated from the wider society for an extensive period of time. Goffman further described extensively how inmates underwent a mortification of self, through physical and social abuse, which then lead to the loss of their usual identify. This 'mortification of self' involved a process whereby the individual was stripped of their past roles to take on a purely institutional role. In essence, Goffman perceived psychiatric hospitals as establishments that shared the same characteristics as prisons, concentration camps and monasteries and argued that patients were subjected to restriction of freedom, suffered from the stigma of being a psychiatric patient and had their normal social roles taken away.
However, deinstitutionalization of psychiatric patients became widespread as a result of several major factors. Besides the upcoming civil rights movement and the right to receive treatment in the least restrictive environment possible, advances in antipsychotic drugs and alternative care in community enabled the release of patients from mental hospitals. Moreover, the high cost of inpatient mental health care became an increasing financial burden for the developing welfare state. The term 'deinstitutionalization' described the process of closure or downsizing of large psychiatric hospitals and the establishment of alternative mental health care in the community. Since deinstitutionalization began in the 1950s, the roles of psychiatric hospitals have changed, and more than half a million long-stay patients have been discharged from psychiatric hospitals in the United States and United Kingdom [2, 3]. Psychiatric services in Western countries have moved away from being based on large psychiatric hospitals to community-based care. An extensive body of literature has described de-institutionalization processes, e.g. in Italy [4], Norway [5], Germany [6] and the United Kingdom [7]. The effects of deinstitutionalization vary across countries based on their health care and social welfare systems as well as the specific features of national traditions, socio-cultural context, and the level of available resources [8]. Nevertheless, inpatient psychiatric hospital services are still considered an essential type of care in psychiatry today, as community care may not be suitable for all patients, especially those with acute mental illness and a lack of support. Nearly all patients with severe mental illness are treated mostly in the community yet many people still episodically receive standard inpatient hospital care [9]. It has been argued that the importance of institutionalized care may be rising again regardless of the investment in community mental health services over the past few decades. Supporting this argument, studies suggest that in several countries the provision of institutional care has increased since 1990 [9–12]. Although the number of traditional psychiatric beds continues to fall in most Western countries, a significant increase in forensic psychiatric beds and places in supported housing services in several industrialized countries across Western Europe has been observed. This has been described as 're-institutionalization', whilst others argue that it is a 'trans-institutionalization' with patients who would have been long-term hospitalized before de-institutionalization now ending up in different institutions such as residential homes, forensic hospitals and prisons [13].
However, despite the debate on whether the development of mental health care constitutes deinstitutionalization, re-institutionalization or trans-institutionalization, there is little common understanding on how the term 'institutionalization' has been conceptualized and understood in the field of psychiatry since the work of Goffman. It is therefore the aim of this paper to review and identify meanings and connotations of institutionalization starting from Goffman's work on mental hospitals to the present day, focusing mainly within the field of psychiatry and medicine. The objective of this review is not to come up with a new definition but to analyze how the term has been used in the psychiatric literature.
Methods
A conceptual review of institutionalization in psychiatry was conducted. To synthesize concepts of the phenomenon 'institutionalization', the principles of conceptual reviews as described by Lilford et al. [14] were followed. Unlike a standard systematic review, the aim of a conceptual review is not to review all literature but to search widely using various databases and sources; building in safety nets to minimize potential biases (e.g. multidisciplinary study teams) and incorporating some overlap in the various stages of the review process so that the precise direction of the review can be clarified. For the purpose of this paper, the concept of institutionalization described by Erving Goffman in 1961 [1] was selected as the starting point to the diverse and extensive literature because Goffman's definition of psychiatric hospitals as 'total institutions' was influential and still remains strongly in the minds of sociologists, psychiatrists, and service user advocates [15].
To commence, electronic searches were performed and the literature known to the authors was also considered. The databases searched were: Pubmed, Web of Science, PsychINFO, and Scopus as they are widely considered as the most relevant databases for publications in the fields of psychology, psychiatry, and other medical disciplines. For each database, searches were performed using the term "institution* AND severe mentally ill*", seeking for all literature since Goffman's work on mental institutions from January 1961 to February 2012. This was later supplemented through additional searches using more psychiatric institutionalization specific terms: (psychiatr* institutionalization AND mental illness) and (mental institution* AND psychiatr*). The titles and abstracts of all identified papers were then reviewed for their relevance. To search widely, the reference lists of all identified relevant papers were also examined to uncover new potential references that were not included in the selected databases. Therefore, although the focus of the review is on the field of psychiatry, some papers also tap into other disciplines such as history, law and sociology if there was a direct link to psychiatry found in the papers by the authors. Full papers were read if necessary to determine their significance before discarding. The concepts uncovered from an initial search of the literature guided further more specific searches around those concepts.
Identified articles were eligible for this study if they met at least one of the following two inclusion criteria: A) mentioning the characteristics, experiences, and/or the functions of adult psychiatric institutions and institutionalization, B) reporting the effect of institutionalization. However, only those papers were included that did not meet any of the following two exclusion criteria: First, papers were excluded if studies about psychiatric hospitals were not based in countries that had experienced major mental health care reforms involving deinstitutionalization during the second half of the 20th century. The reason for excluding such papers is because countries that had not undergone the process of deinstitutionalization at the time may operate on a different organization of mental health care system [16]. Second, papers were excluded if studies focus mostly on psychiatric reforms or the process of deinstitutionalization. Third, papers were also excluded if institutionalization of older adults, children or intellectually disabled were examined, since the review focused on the concept of institutionalization for the core group of patients of working age.
Thematic analysis, a method used for identifying patterns of meaning, was employed to synthesize the findings [17]. Information on the characteristics and functions of psychiatric institutions was extracted from all identified papers and was then analysed in chronological order. This analytic approach was chosen in order to reflect historical trends in the development of psychiatric services. Analysis was regularly reviewed through weekly meetings between WSC and SP, and findings were then presented to the study team and alternative interpretations discussed, in order to minimize any potential biases. Identified categories were then refined, subsumed within existing categories or deleted. The study team comprised a clinical psychiatrist (SD), a research psychologist (RMcC), a psychiatrist who is both a clinician and an academic (SP), and a public health researcher who is also trained as a mental health clinician (WSC). The team drew on their professional experience in various clinical settings, background knowledge of different countries' health care systems and familiarity with conducting conceptual reviews. The study group was asked to comment on the preliminary themes, the initial draft of this review and to identify any further relevant literature that was not included. The study team's expertise was utilized to identify patterns as well as to combine related subject matters through discussions. Findings were then grouped based on the underlying concepts which appeared to guide them. The discussions with the study team provided a validity check on the identified themes.
Results
While this review does not aim for exhaustive searching, a brief summary of the results of the searching protocol is provided as a general understanding of the search process. Figure
1
shows the flow diagram detailing the study retrieval process.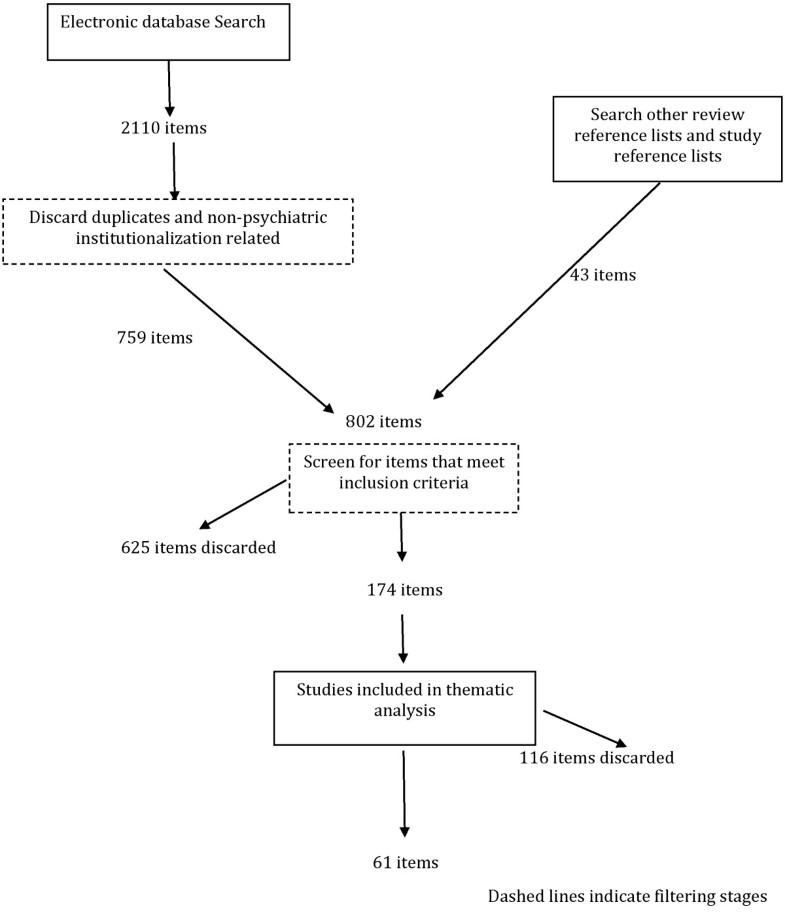 The initial electronic searches produced 2,110 items, which was reduced to 759 after elimination of duplicates and unrelated items. A further 43 items were added from the examination of reference lists. 177 items remained after the elimination of 625 irrelevant materials. Only papers meeting the inclusion criteria were included in the final review (n = 61).
Discussion
Four different meanings of how 'institutionalization' in psychiatry is conceptualized were identified from sixty-one papers across eleven different countries, i.e. bricks and mortar of care institutions, policy and legal frameworks regulating care, clinical responsibility and paternalism in clinician-patient relationships, and patients' adaptive behavior to institutionalized care. These four identified connotations of how the term has been used in literature are conceptually distinct, but appear to overlap. Seventeen papers contained more than one of the four themes which may illustrate the complexity of the concept of institutionalization.
The conceptualization of institutionalization in psychiatry appears to have changed over time along with the changes in the provision of mental health care. Prior to the movement of deinstitutionalization, old-style mental hospitals functioned merely as a custodial care model and thus the perspective of bricks and mortar prevailed. The term 'deinstitutionalization' describes the process of downsizing and closing large hospitals accompanied by the establishment of alternative community-based mental health services [76, 77]. As a result of the process of deinstitutionalization, many long-term hospitalized patients then were discharged into the community. It was found that the discharged patients experienced a higher quality of life compared to the hospitalized patients. Examples for such research are the studies of the Team for the Assessment of Psychiatric Services (TAPS) in North London [78] and the Berlin De-Institutionalization study [79]. Discharged patients reported better satisfaction with their living conditions and had acquired friends and confidants. In addition, they gained domestic and community living skills, although no change was found in the patients' clinical state or in their problems of social behavior. In modern psychiatry, however, the term 'institutionalization' goes beyond bricks and mortar as the functions of mental hospitals have changed. While in modern psychiatric hospitals less emphasis is put on institutionalizing patients with bricks and mortar, institutionalization is rather displayed in terms of policy and legal framework, in terms of clinical responsibility and paternalism or understood as patients' response to institutional care. Although institutional organization and clinical responsibility aim to provide a structured and safe environment to facilitate the treatment process and to help monitor patients, they can also unintentionally institutionalize patients. Clinical paternalism can reinforce patients' dependency on services, for instance, in the case of mandatory relationships between staff and patients where staff offer clinical paternalism- with the best intentions- to help patients manage their symptoms and life. Patients' mental capacity to consent to treatment may also have to be considered in this context, but has so far received little attention in the literature on psychiatric institutionalization.
If paternalistic relationships between staff and patients reflect institutionalization, then institutionalization must not necessarily occur in a physical facility such as a mental hospital, but patients may also be subjected to being institutionalized in supported housing or supervised residential facilities with around the clock staffing as well as other alternative institutions in community settings (i.e. forensic hospitals). In addition, if institutionalization is conceptualized as patients' response or adaptive behavior to services, then specialized community care such as assertive outreach could also be seen as a form of institutionalization due to the limited patient autonomy and their dependency on the intensive comprehensive care. Mental health patients residing in highly structured environments of community-based sheltered-care facilities can exhibit a distinct pattern of dependency [80]. Assertive Outreach (AO) has already been criticized for being paternalistic and coercive [44]. Service users of AO teams live, work and socialize in the community as "free individuals" yet they remain subject to rules and restrictions as if contained in old fashioned asylums [18]. Furthermore, patients who are legally mandated to receive treatment such as compulsory treatment in hospital or community might also be at risk of being institutionalized even though some argue involuntary psychiatric care helps to reduce symptoms, manage illness and re-establish a person's ability to make autonomous decisions.
In conclusion, despite modern psychiatric services continuing to reflect the trend of deinstitutionalization with the closure of large mental hospitals, reduction of psychiatric hospital beds and the discharge of long-stay hospitalized patients into community, the findings of this review suggest that institutionalization can still manifest in alternative forms of community-based institutional settings. Therefore, there is a risk that mental health patients might also be subjected to new forms of institutionalization in community-based services, as conceptualized in the four identified themes. Although the establishment of community care aimed to promote patients' autonomy and to provide care and treatment on a 'partnership and consensual basis' as much as possible, this review shows that institutionalization can still manifest in modern psychiatry similar to the old -style mental hospitals (asylums) beyond the traditional bricks and mortar hospital settings [81, 82]. While patients may prefer community-based care to institutional ones, there is still a risk of subjecting mental health patients to institutionalization on psychiatric acute wards in general hospitals or new forms of residential facilities in community settings.
The results of this review can be related to critiques of Goffman's notion of the mental institution [20, 37, 83, 84] namely that the earlier conceptualizations of institutionalization are limiting and can no longer be applicable in today's context. The traditional conceptualization of institutionalization reinforces mainly a restrictive understanding of institutionalization as taking place in institutions, where patients are only the sufferers of the treatment process and have limited autonomy and are completely isolated from the outside world. Townsend [82] concluded in his review that studies from 1959 to 1975 support the idea that institutionalization involves patients accepting institutional life and developing a lack of desire to leave after a long stay in mental institutions. More recently, Quirk and his associates [20, 56] found that 'permeable institutions' provide a better representation of the reality of everyday life in modern 'bricks and mortar' psychiatric institutions.
Strengths and limitations
One of the strengths of the review is that it considered literature from different disciplines and countries. Several main databases in the field were searched with broad search terms to avoid missing any major debates or discussions in the literature. In addition, the study team's expertise in psychiatry, psychology and public health were utilized to identify patterns, combine related subject matters and minimize potential biases.
The review also has a number of limitations. Since the aim of this review is to search widely, relevant articles may have been missed but also literature that does not contain the search terms of this review explicitly. Also, conference presentations or grey literature were not included. The replicability of the review is limited given that establishing what information is relevant was based mainly on the individuals who are conducting the review. Finally, due to the focus of this review on the field of psychiatry, it has been beyond its scope to appraise how the term institutionalization is used in other disciplines. Consequently, a wide body of literature in the social sciences such as those examining the institutionalization of inmates, juvenile offenders or children in institutional care has been excluded.
Conclusions
The findings of the review emphasize that the term 'institutionalization' in modern psychiatry goes beyond definitions based on bricks and mortar, but rather includes ideas about staff's responsibility, and policy and legal framework. Based on the traditional perspective of institutionalization, new services in the community can be seen as part of de-institutionalization. From the contemporary viewpoint however, one could argue that services such as supervised supported housing or assertive outreach may be a new form of institutional care since the movement of de-institutionalization.
The identified themes provide a preliminary framework for investigating and analyzing all care institutions in modern psychiatry, but do not constitute a coherent theoretical model of institutionalization. In this conceptual review, we neither started with an overarching theory nor developed one, but showed how institutionalization is understood in the field of psychiatry. This review highlights a number of fundamental elements to consider in further examination of the current and future development of institutional psychiatric care.
The findings have implications for further empirical research on (de)institutionalization. Tallying and analyzing the number of beds and places in mental health institutions facilitates health systems to examine and monitor their current state and future direction of mental health care institutions methodically. Moreover, provision of bed numbers in institutional settings can provide an indication of the trend of (de)institutionalization from a bricks and mortar perspective. Surprisingly, however, such data is difficult to obtain and clearer definitions and reliable sources are still required to investigate trends over time and even more so to compare internationally [84, 85]. Thus more research is needed to fully understand the international development of mental health institutions. Yet, as this review showed, bed numbers in mental health institutions will not capture all of the different but interrelated aspects of psychiatric institutionalization. Therefore, quantitative research on trend(s) of (de)institutionalization should also include the development of other forms of psychiatric care, e.g. supervised supported housing, on the agenda. Also here, the availability of international data and identifying common definitions will be a major challenge. In spite of this, going beyond the bricks and mortar perspective in empirical research on (de)institutionalization will provide a valuable starting point for further quantitative and qualitative investigation of the underlying reasons for the changes in the provision of institutionalized mental health care.
To fully understand if and how alternative forms of psychiatric care can bring about a different form of institutionalization, it will be essential and worthwhile to adhere to the theme of patients' adaptive behavior to care. This will shed light for a quantifiable approach to measure institutionalization in different contexts. Once more such research will lead to a thorough understanding of how patients respond or adapt to the different type of institutional psychiatric treatment, which will allow researchers to explore if a process of 'psychiatric institutionalization' is also apparent in other specialized modern forms of community mental health care model such as assertive outreach teams, early intervention teams and or crisis resolution terms.
From a public health perspective, institutionalization as policy and legal frameworks regulating care has been increasingly examined in the recent past as the rate of involuntary admission of people with mental illness has increased over the years [40]. In taking a step forward, it will be fruitful to also include clinical paternalism and responsibility on the research agenda when looking at the effects of psychiatric institutionalization. For example, Sheehan and Burns' findings [57] indicated that high levels of perceived coercion are significantly associated with involuntary admission and a poor rating of therapeutic relationship. Voluntary hospitalization was seen as more coercive when patients rated their relationship with the admitting clinician negatively. The mental health field needs to assess the influence that paternalistic relationships and the unequal power relation between clinical staff and patient could have on the patient's health condition and autonomy. More importantly, more empirical studies are needed to examine the benefits and harms of using informal coercion and practicing compulsory community psychiatric care.
In summary, the term 'institutionalization' is an evolving concept. Hence, further investigation of any of the four identified distinct but related themes will help develop a fuller understanding of (de)institutionalization and thus aid in clarifying the direction of mental health care in continuous discussions and future debates.
Declarations
Acknowledgements
We would like to thank Dr. Sara Dimic and Dr. Rose McCabe for being part of the study team and their guidance on refining the identified themes. This study was supported by a grant from East London NHS Foundation Trust.
Authors' Affiliations
(1)
Unit for Social and Community Psychiatry, Barts and the London School of Medicine and Dentistry, Newham Centre for Mental Health, Queen Mary University of London, London, UK
Copyright
© Chow and Priebe; licensee BioMed Central Ltd. 2013
This article is published under license to BioMed Central Ltd. This is an Open Access article distributed under the terms of the Creative Commons Attribution License (http://creativecommons.org/licenses/by/2.0), which permits unrestricted use, distribution, and reproduction in any medium, provided the original work is properly cited.