Research article

Open Access

Open Peer Review
This article has Open Peer Review reports available.
Mental health screening tools in correctional institutions: a systematic review
Received: 22 April 2013
Accepted: 22 October 2013
Published: 29 October 2013
Abstract
Background
Past studies have identified poor rates of detection of mental illness among inmates. Consequently, mental health screening is a common feature to various correctional mental health strategies and best practice guidelines. However, there is little guidance to support the selection of an appropriate tool. This systematic review compared the sensitivity and specificity of mental health screening tools among adult jail or prison populations.
Methods
A systematic review of MEDLINE and PsycINFO up to 2011, with additional studies identified from a search of reference lists. Only studies involving adult jail or prison populations, with an independent measure of mental illness, were included. Studies in forensic settings to determine fitness to stand trial or criminal responsibility were excluded. Twenty-four studies met all inclusion and exclusion criteria for the review. All articles were coded by two independent authors. Study quality was coded by the lead author.
Results
Twenty-two screening tools were identified. Only six tools have replication studies: the Brief Jail Mental Health Screen (BJMHS), the Correctional Mental Health Screen for Men (CMHS-M), the Correctional Mental Health Screen for Women (CMHS-W), the England Mental Health Screen (EMHS), the Jail Screening Assessment Tool (JSAT), and the Referral Decision Scale (RDS). A descriptive summary is provided in lieu of use of meta-analytic techniques due to the lack of replication studies and methodological variations across studies.
Conclusions
The BJMHS, CMHS-M, CMHS-W, EMHS and JSAT appear to be the most promising tools. Future research should consider important contextual factors in the implementation of a screening tool that have received little attention. Randomized or quasi-randomized trials are recommended to evaluate the effectiveness of screening to improve the detection of mental illness compared to standard practices.
Keywords
Mental healthScreeningInmatesCorrectionsPrisonJail
Background
Higher rates of mental disorders have consistently been reported in correctional settings as compared to the general public [1–3]. Offenders with mental illness are more likely to engage in institutional violence and rule infractions [4], especially those with psychotic or depressive symptoms [5]. Similarly, offenders with mental illness are less likely to be released on parole or other forms of discretionary release [6] and may be more likely to have their community supervision revoked [7]. Two meta-analyses showed that interventions for offenders with mental illness may be effective at improving outcomes while incarcerated [8] and at preventing further crime [9]. However, past studies have found poor identification of offenders with mental illness for treatment services. Teplin [10] found that only 32.5% of inmates with severe mental illness were detected at intake. However, this same study noted mental health needs were more likely to be identified among those with a past psychiatric treatment (91.7% of whom were detected). Similarly, whereas 45% of those with a psychotic disorder were detected by jail personnel, only 7% of those with major depression were identified. Similar results were found in the United Kingdom by Birmingham et al [11]. In their study, 23% of those with a current mental illness were identified by prison staff. However, they did not find a higher detection rate of psychotic disorders as observed by Teplin. Findings such as these have led to the inclusion of mental health screening as a key component of a correctional mental health strategy [12–15].
Brooker et al [16] remarked that while screening tools have improved the identification of individuals with mental disorder, they tend to screen in a large number of offenders without mental health needs (i.e., false positives). It has been argued that a tiered screening system which accepts higher false positive rates is a preferred option [17, 18]. However, if false positive rates are too high, this may lead to an inefficient use of scarce mental health resources [19–21]. This may result in large numbers of offenders without mental health needs receiving mental health assessments, possibly delaying treatment for those of highest need. Tensions between accurately identifying needs versus provision of treatment are intensified in jail settings (i.e., for pre-trial offenders and those serving shorter sentences) where there is less time to provide treatment than in prison settings where inmates are serving long sentences (i.e. 2 years or longer in Canada).
There is a lack of consensus about what constitutes acceptable performance for a screening tool. Possible standards that administrators could attempt to achieve include: 1) maximizing detection of mental illness regardless of false positive rates; 2) maximizing detection of mental illness while maintaining the false positive rate below a threshold; 3) minimizing the number of false positives while maintaining the false negative rate below a threshold; 4) maximizing the overall accuracy with no priority given to either type of error.
Major issues in choosing a standard are determining the most important mental health conditions to detect and what referral rate can be managed with local resources. In screening for rare but severe illness (e.g. psychosis or suicidal ideation), a two-stage screening process might be appropriate. It may be tolerable to have a high false positive rate in the first stage, followed by secondary level triage to identify those in greatest need of service [17]. In community settings, this has been challenging, with lower needs individuals using disproportionately high levels of services [22, 23]. To mitigate this potential concern, adding a minimal standard for specificity might be desirable.
Where resources are more limited, efficiency may be the primary consideration. Jurisdictions with long waitlists for treatment and/or short periods of time to offer treatment may be overburdened by a screening tool which refers many inmates who do not require services. In this case, a tool with high specificity and adequate sensitivity might be preferable. Alternatively, a tool with high overall accuracy might be an option. However, if the prevalence of illness is very low, overall accuracy might be high, even if the tool identifies very few individuals with mental illness. For example, the Kessler-6 (K6), which has been widely adopted in community settings, had an overall correct classification rate of 92% at the optimal cut-off of 13. However, at this cut-off, the sensitivity was only 36% [24].
As there is little guidance to inform the selection of an appropriate mental health screening tool in correctional settings, we conducted a systematic review of existing research in the area. The review was guided by four questions: (1) what are the sensitivity and specificity of screening tools in an offender population? (2) do they perform equally well across sex and ethnicity? (3) do they perform equally well at detecting severe mental illness (e.g., psychotic disorders, bipolar disorder and major depression [13]) as compared to other mental illnesses? (4) do they perform equally well in jail or remand setting (i.e., with pre-trial detainees or offenders serving short sentences) as in prison settings (i.e., among offenders serving longer sentences)?
Methods
The Preferred Reporting Items for Systematic Reviews and Meta-Analyses (PRISMA) statement was used to guide the conduct and reporting of our systematic review [25].
Inclusion and exclusion criteria
We sought to identify all studies published in English or French by no later than December 2011 related to mental health screening of incarcerated individuals. The search was completed in February 2012. Studies were reviewed against four inclusion and two exclusion criteria. Inclusion criteria include: (1) the sample consisted of people 18 years of age or older who were incarcerated following a charge or conviction for a criminal offence; (2) the paper examined a systematic screening process to detect potential mental illness; (3) the criterion measure was either a validated diagnostic tool or direct clinician assessment; and (4) sufficient data were available to calculate relevant statistics to assess tool performance (i.e. sensitivity, specificity, negative/positive predictive value [NPV/PPV]). Exclusion criteria were: (1) screening for cognitive functioning, intellectual disability, substance abuse, personality disorder, suicide risk, or malingering of psychiatric symptoms; (2) screening in a forensic hospital setting in the context of a pre-trial assessment (e.g. competency to stand trial or criminal responsibility).
Literature search
Studies were identified through a search of PsycINFO and Medline databases. The abstract and title fields were searched using a combination of terms of capture the activity of interest (i.e.
screen
*,
assess
*,
identify
* or
triage
), its focus (i.e.
mental health
,
psychiatric
, or
mental disorder
) and the setting (i.e.
jail
,
prison
*,
offender
). Terms within the three categories were joined using the OR operand and the three categories were joined using the AND operand. 781 results were returned from PsycInfo and 404 were returned from Medline. There were 946 unique results from this initial search after excluding 239 results returned from both databases. Following a review of titles and abstracts to exclude articles that obviously did not meet the research question, 107 articles remained for a complete review. Nine additional studies were identified from a review of the reference lists of these 107 articles, including one unpublished manuscript that was retrieved through a Google search [
26
]. One author was contacted to obtain the government report [
27
] containing the primary analyses that were subsequently presented in a peer reviewed manuscript [
28
]. Given that this review was of a descriptive nature, we erred towards being over-inclusive when reviewing papers against the criteria. Twenty-four articles met all inclusion and exclusion criteria and were included in the review (see Figure
1
for a flow-through of articles retrieved as part of this review). Two additional studies [
27
,
29
] had overlapping samples with included studies. These were used to extract additional information regarding the methods used or to retrieve data from sub-group analyses. One study [
30
] reported independent samples to construct and validate the Referral Decision Scale (RDS); each of which was coded as a separate study (which we refer to as the construction and the validation samples).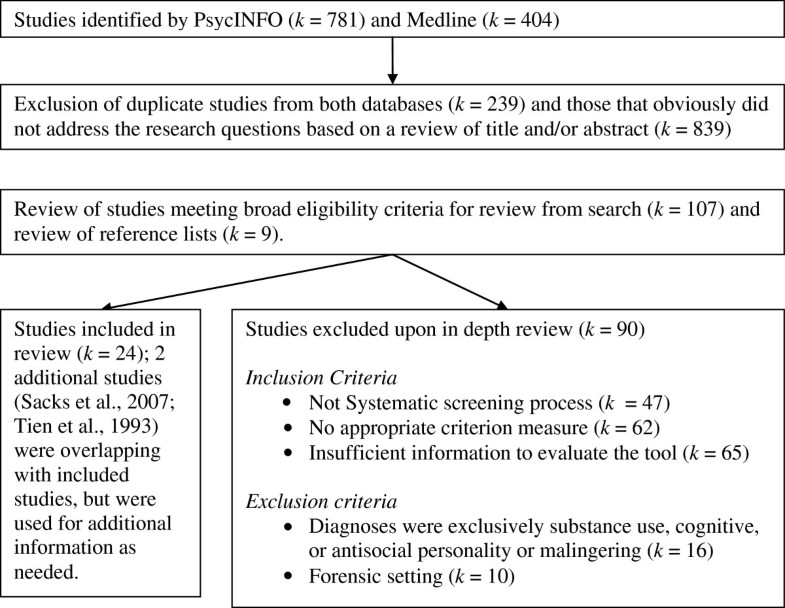 Study coding
Coders used a data extraction form developed for this study to collect information about the study setting (i.e. jail, prison, health care unit, women's institution), the sex and racial composition of the sample, the reference standard (e.g. chart diagnosis, clinician assessment, structured diagnostic interview, etc. and types of disorders covered), and statistical information regarding the performance of the screening tool (e.g. raw numbers of true and false positives and negatives, sensitivity, specificity, positive and negative predictive value (PPV and NPV), and referral rates). All studies were coded by the primary author. The remaining authors each coded approximately one third of the articles to establish inter-rater agreement. Intraclass correlation coefficients (type: consistency) exceeded .95 for continuous variables. Kappa exceeded .70 for categorical variables. Discrepancies were resolved through discussion to achieve consensus.
We calculated missing statistics where possible to address variable reporting of results. For 17 studies (63%), we calculated the referral rates using the sensitivity, specificity and either (1) the PPV and NPV or (2) the prevalence of illness. For one study [31], the calculation of referral rates highlighted a transcription error, which was corrected through contact with the author (N. Gagnon, personal communication, March 1, 2013). One study did not report sensitivity and specificity values [32]. We re-calculated sensitivity and specificity values for two other studies. For one study we calculated these values by sex from raw data provided [26]. For another study [33], data were weighted by sex, as sampling was stratified. Since no other studies accounted for over-sampling by sex, we re-calculated un-weighted statistics from the raw data provided. Overall accuracy was calculated for 13 (54%) studies and could not be calculated for another 3 (13%). PPV and NPV were calculated for 5 studies (21%). Confidence intervals were only reported in 2 studies [31, 33]. To ensure consistency in calculations, we calculated confidence intervals for all sensitivity and specificity values [34].
Study quality was assessed by the primary author. Tools were rated using the QUADAS-2 [35]. The tool requires an assessment of four domains: patient selection, index test, reference standard, and flow and timing. A series of signalling questions are answered as either yes, no or unclear, and an overall assessment is made whether the domain could have introduced bias. A rating of low, high or unclear concern regarding applicability to the review topic is also made.
Analysis
A narrative summary of findings is provided as the range of tools identified, the diverse methodologies, and the lack of replication studies precluded the meaningful use of meta-analytic techniques to aggregate the results.
Discussion
Our review identified a number of screening tools in the literature. However, the paucity of replication studies and study quality issues for a number of tools limit conclusions regarding their application. The BJMHS, the CMHS-M, the CMHS-W, the EMHS, the JSAT, and the RDS have been best studied. Given that the BJMHS was developed to address limitations of the RDS, we would discourage adoption of the RDS. However, the remaining five tools are recommended as first options for implementation, as the majority of studies have supported their use.
Whereas the BJMHS, CMHS-M and CMHS-W and EMHS are brief tools (i.e. 5 minutes or less) that can be administered by health or custodial staff, the JSAT is completed by nursing or psychology staff, and requires 20-30 minutes to complete. Only two studies included in this review compared these tools against one another. Evans et al compared the BJMHS and the EMHS, and found that they had roughly comparable performance [17]. Ford et al [43] found higher accuracy of the CMHS tools compared to the BJMHS and RDS, except for Black women. A recent study [50] in a police jail found comparable performance between the JSAT and the BJMHS.
Contextual factors
Our review identified important contextual considerations for those selecting a tool. For example, both the BJMHS and the EMHS performed well in initial studies. However, in validation studies in Canada [31] and New Zealand [17] their performance decreased considerably, in particular in the detection of major depression [17]. Gagnon [31] and Evans et al [17] noted that differences between countries in access to health care might influence referral rates on tools such as the BJMHS and EMHS which include past psychiatric treatment items. Furthermore, both countries have relatively large Indigenous populations who have relatively less utilisation of mental health services in the community [51]. As both the BJMHS and EMHS include items regarding mental health treatment history, poorer performance in ethnically diverse populations may reflect their lack of access to health care in the community [51], or cultural differences in interpreting the meaning of constructs and tools to measure them [52]. A recent study [53] found lower referral rates among Black and Latino inmates screened with the BJMHS. Black and Latino inmates had less prior service utilization, items which result in automatic referral. The EMHS relies entirely on historical variables, whereas the BJMHS, the CMHS and the JSAT all include items regarding history and current symptoms. Thus the EMHS may be less sensitive to mental illness if inmates have low rates of past psychiatric treatment, similar to the previous findings of Teplin [10].
Staff characteristics, skills, and training also appear to be important factors. Steadman et al [20, 42] found higher referral rates when screening was completed by a female as compared to a male staff member. They also found that many false negative cases were inmates who disclosed more information to health care professionals than they did to correctional officers. Steadman et al [42] noted that correctional officers felt a need for training on establishing trust and eliciting information, and that they noted challenges asking questions related to current symptoms.
Limitations
This study is limited by the lack of replication studies of otherwise well designed tools. There have been considerable reductions in performance in the replication of some tools, therefore limiting our ability to draw conclusions about many tools reviewed. While we have attempted to include all relevant literature, it remains possible that we were unable to access or locate additional work – particularly studies in which tools performed poorly.
The lack of trials evaluating screening tools limits our ability to assess the improvements in detection rates following the introduction of a mental health screening tool. In their development study, Steadman and colleagues acknowledged that the BJMHS performed worse for women offenders, but noted that it represented an improvement over previous screening results [20]. While the argument supports the use of the tool, it was based on the results of Teplin [10] from approximately twenty years earlier. It is possible that detection would have improved since this time without screening given increased attention to mental illness in corrections. While not always feasible, an experimental or quasi-experimental design (e.g. randomized controlled trials, cluster randomized trials, stepped wedge, or time-series designs) should be used to compare detection rates prior to and following implementation of screening.
Conclusions
Screening is a critical component to a correctional mental health strategy, and there appear to be some improvements in screening tools in recent years. Five tools with replicated results warrant consideration for implementation. A small number of tools that have been less extensively studied may also warrant further research. We have suggested four potential standards that could be used to determine what adequate performance of a screening tool means within each specific context. There are a number of factors that may impact the performance of screening tools such as sex, race/ethnicity/culture, jail versus prisons, country factors (e.g. availability of services in the community), and staff qualifications and training that have received minimal attention in the literature. An increased understanding of these factors is needed to inform more accurate, cost-effective, and feasible mental health screening.
Abbreviations
PPV:

Positive predictive value
NPV:

Negative predictive value
BJMHS:

Brief jail mental health screen
CMHS-M:

Correctional mental health screen for Men
CMHS-W:

Correctional mental health screen for Women
COSDI-MD:

Co-occurring disorders screening instrument for mental disorder
COSDI-SMD:

Co-occurring disorders screening instrument for severe mental disorder
EMHS:

England mental health screen
GHQ-28:

General health questionnaire (28 item)
GSS:

Global appraisal of individual needs short screener
GSS-IDS:

Global appraisal of individual needs short screener - internal disorder screener
JSAT:

Jail screening assessment tool
K6:

Kessler 6
MHSF:

Mental health screening form
MINI-M:

Mini international neuropsychiatric interview – modified
NYS BST:

New York State brief screening tool
RDS:

Referral decision scale.
Declarations
Acknowledgements
MM was supported by a Canadian Institutes of Health Research Training Fellowship through the Social Aetiology of Mental Illness Training Program. IC is supported by the Canada Research Chairs program. No funding agency had any involvement at any stage of this study.
Authors' Affiliations
(1)
Department of Epidemiology and Community Medicine, University of Ottawa, Ottawa, Canada
(2)
Centre for Addiction and Mental Health, Toronto, Canada
(3)
Department of Psychiatry, University of Toronto, Toronto, Canada
Copyright
© Martin et al.; licensee BioMed Central Ltd. 2013
This article is published under license to BioMed Central Ltd. This is an open access article distributed under the terms of the Creative Commons Attribution License (http://creativecommons.org/licenses/by/2.0), which permits unrestricted use, distribution, and reproduction in any medium, provided the original work is properly cited.