Research article

Open Access

Open Peer Review
This article has Open Peer Review reports available.
Auditory change detection in schizophrenia: sources of activity, related neuropsychological function and symptoms in patients with a first episode in adolescence, and patients 14 years after an adolescent illness-onset
Received: 01 September 2005
Accepted: 08 February 2006
Published: 08 February 2006
Abstract
Background
The event-related brain response mismatch negativity (MMN) registers changes in auditory stimulation with temporal lobe sources reflecting short-term echoic memory and frontal sources a deviance-induced switch in processing. Impairment, controversially present at the onset of schizophrenia, develops rapidly and can remain independent of clinical improvement. We examined the characteristics of the scalp-recorded MMN and related these to tests of short-term memory and set-shifting. We assessed whether the equivalent dipole sources are affected already at illness-onset in adolescence and how these features differ after a 14-year course following an adolescent onset. The strength, latency, orientation and location of frontal and temporal lobe sources of MMN activity early and late in the course of adolescent-onset schizophrenia are analysed and illustrated.
Methods
MMN, a measure of auditory change-detection, was elicited by short deviant tones in a 3-tone oddball-presentation and recorded from 32 scalp electrodes. Four dipole sources were placed following hypothesis-led calculations using brain electrical source analysis on brain atlas and MR-images. A short neuropsychological test battery was administered. We compared 28 adolescent patients with a first episode of schizophrenia and 18 patients 14 years after diagnosis in adolescence with two age-matched control groups from the community (n = 22 and 18, respectively).
Results
MMN peaked earlier in the younger than the older subjects. The amplitude was reduced in patients, especially the younger group, and was here associated with negative symptoms and slow set-shifting. In first-episode patients the temporal lobe sources were more ventral than in controls, while the left cingular and right inferior-mid frontal sources were more caudal. In the older patients the left temporal locus remained ventral (developmental stasis), the right temporal locus extended more antero-laterally (illness progression), and the right frontal source moved antero-laterally (normalised).
Conclusion
From the start of the illness there were differences in the dipole-model between healthy and patient groups. Separate characteristics of the sources of the activity differences showed an improvement, stasis or deterioration with illness-duration. The precise nature of the changes in the sources of MMN activity and their relationship to selective information processing and storage depend on the specific psychopathology and heterogeneous course of the illness.
Keywords
SchizophreniaNegative SymptomSuperior Temporal GyrusInferior Frontal RegionSupervisory Attention System
Background
The detection of a change in ongoing ambient auditory stimulation is an important preliminary requirement for the conscious organisation of an adaptive response to a significant event. The unusual sound could be an unexpected tone in a well-known piece of music, or the telephone ringing during a conversation. The change is detected automatically, but the altered behaviour requires controlled information processing beyond detection. The brain's response on detecting deviance is registered by an event-related potential (ERP) called mismatch negativity (MMN). This is recorded by subtracting the ERPs after a series of similar stimuli from that elicited by the unexpected tone. The procedure requires no task, and is thus well-suited for study in patients with schizophrenia. But what parts of the brain generate MMN activity and what mechanisms are involved?
Sources of neuronal activity have been reported for the auditory cortices and the frontal lobe [1, 2]. The frontal sources lie in the right inferior/mid-frontal and left anterior cingulate gyri [3, 4]. This is consistent with functional imaging of the activity generated by dissonant tones in music [5]. The activity of these sources represents the registration of a change and the mechanism for switching to a new mode of information processing [6, 7]. Sources in the superior temporal lobe represent the short-term sensory memory trace for the currently usual sound [8, 9]. This sensory memory has many features in common with an auditory working memory [10]. Information in working memory is organised in the inferior frontal region [11] where activity closely covaries with that in the superior temporal areas in imaging studies of auditory memory (e.g. in same-different judgments [12, 13]). Like the phonological loop in working memory [14], the auditory sensory trace can be reactivated for 11–15 seconds after a stimulus [15]. A monitoring function is widely attributed to both working memory and to the automatic process underlying MMN [16], for which a supervisory attention system [17] and a store are essential parts [18]. There is much evidence for impaired auditory [19] and non-verbal working memory in schizophrenia [20], but are both the memorial (temporal lobe) and switching (frontal lobe) components of MMN also impaired? If so, then an examination of the sources should show how the impairment is expressed. Associations with conventional neuropsychological indicators of working memory and switching were explored..
A reduced MMN is widely reported in patients with schizophrenia with or without antipsychotic medication [21–23]. In contrast, borderline or non-significant reductions are reported for depressed and bipolar patients [23, 24], and MMN with a normal amplitude was recorded in obsessive compulsive disorders [25]. Significant [26] or nonsignificant [27] decreases described at onset may get more severe after a longer illness [24, 27–29]. They are often more marked in patients with non-paranoid or negative symptoms [27, 30] and without hallucinatory or delusory symptoms [31]. Such negative features (e.g. flat-affect, alogia, social withdrawal, avolition) correlate with the severity of working memory difficulties [32].
Initial studies of MMN sources with magnetoencephalography (MEG: [33, 34]) and ERP and imaging techniques (e.g. [35, 36]) suggest impaired left-sided locations and source strengths. But these have concentrated on the temporal rather than the frontal lobe. As suggested above, such temporal lobe changes would be expected if the reduced MMN amplitude reflects in part impaired superior temporal function in categorization [37], sound identification [38] and auditory working-memory processes [39]. But if the supervisory attention system is also impaired, the frontal sources of activity may be altered. Evidence from MMN topography [40, 41] and source modelling [42] has implicated frontal generator impairments in schizophrenia, and that in the early stages of illness there may be some further deterioration of these impairments reflecting illness-progression [42].
In this current report two groups of patients were selected to examine the hypotheses of there being impaired frontal sources and a progressive deterioration with course in schizophrenia. Patients were either experiencing their first episode as adolescents, or had been diagnosed initially in adolescence 14 years before. (It has been suggested that an onset in adolescence can lead to a severer course of illness [43].) We sought to explain the topographic pattern of MMN activity with brain electrical source analysis locating dipoles bilaterally in the frontal and temporal lobes based on published models [3, 42]. This procedure describes 4 features (locus, orientation, strength and latency) for each of the 4 dipoles that could differ between groups. We concentrate on the MMN generated by stimuli of different durations for which impairments are frequently reported, and may even be impaired in the patients' relatives [44], making it a candidate for an endophenotype of change detection processes.
Results
Demographic, clinical, performance and ERP measures are presented in Tables
1
,
2
,
3
. There were no group differences for hit rates on the visual vigilance control task, although the S-14Y group responded slower than the controls (F
3,79
= 5.8,
P
< .01). Slow reaction times were confirmed for S-14Y patients in the auditory task (F
3,79
= 3.9,
P
< .02). Here both patient groups made fewer hits than their comparison groups (F
3,81
= 10.8,
P
< .01: Table
2
).
Table 2
Response time and accuracy (mean and standard deviation) on an adjunctive visual vigilance test and an auditory discrimination of frequency deviant tones in younger and older groups of patients with schizophrenia and age-matched healthy comparison subjects
EOS (N = 28)

C-EOS(N = 22)

S-14Y (N = 18)

C-14Y (N = 18)

Mean

SD

Mean

SD

Mean

SD

Mean

SD

Visual vigilance

554

[162]

496

[125]

664

[211]

467

[82]

response time (ms)#

Visual vigilance

92

[26]

97

[8]

98

[4]

100

[1]

task (% hits)*

Auditory discrimination

446

[92]

409

[61]

478

[80]

401

[61]

response time(ms)##

Auditory

72

[23]

90

[11]

61

[29]

92

[12]

discrimination (% hits)*
Table 3
ERP Characteristics for the Four Subject Groups
EOS (n = 28)

C-EOS (n = 22)

S-14Y (n = 18)

C-14Y (n = 18)

Mean

SD

Mean

SD

Mean

SD

Mean

SD

MMN trials accepted

64

10

68

9

65

13

63

10

MMN latency (at Fz, ms)

1581

30

1531

19

1872

26

164

32

MMN amplitude Fz, (135–165 ms)

-1.1a

0.9

-2.1

1.1

-0.9

1.0

-1.5b

0.9

Cz,

-0.7a

1.1

-1.6

0.9

-0.6

1.2

-0.6b

1.2

Right mastoid, μV

+0.9a

0.9

+1.8

1.1

+0.9

1.7

+1.2b

1.0
Scalp recordings
Initial analyses with 29 electrodes showed group differences for MMN amplitude (F84,2296 = 3.5, P < .001, ε =.16) in the 135–165 ms window (Figure 1). A trend difference continued in the 165–195 ms window (p = 0.1). EOS patients had a smaller MMN than the young controls (F28,1344 = 6.6, P < .001, ε = .16). The reduction in the older patients vs. their controls attained trend significance (F28,952 = 1.9, P = .1, ε = .15), but it should be noted that the older controls had a smaller MMN than the younger controls (F28,1064 = 2.8, P < .02, ε = .18). The MMN amplitudes did not differ between patient groups, and thus provide no evidence for a deterioration nor an improvement between onset (EOS) and later stages of the illness (S-14Y).
The ANOVA using mean amplitudes in two consecutive time windows confirmed the fronto-centrally pronounced MMN topography (factor row: F3,246 = 56.8, P < .001). MMN amplitudes in the frontal and fronto-central rows did not differ but were larger than in the other rows (Fs1,82 > 4.8, Ps < .03). Further MMN amplitudes were largest at the midline electrodes (factor side: F2,164 = 3.3, P = .043). However, the topography did vary with the time window (window × side: F2,164 = 7.8, P = .001). The MMN was broadly distributed in the 135–165 ms window (no significant differences between the midline, left and right side): but in the 165–195 ms window the midline MMN amplitude was larger than on the left or right side (Fs1,82>9.7, Ps < .003).
Most importantly, the 4 subject groups differed significantly from each other (F3,82 = 5.1, P = .003). Simple effects confirmed differences between the EOS group and their adolescent controls (F1,48 = 15.2, P < .001) as well as between the adolescent and the adult control groups (F1,38 = 6.0, P = .019). Effects were specific to time window and row (window × row × group: F9,246 = 2.6, P = .041). The group effect was pronounced in the 135–165 ms interval (group: F3,82 = 7.2, P < .001) and reduced to a trend in the 165–195 ms window (group: F3,82 = 2.4, P = .072). At 135–165 ms tests of simple effects revealed differences between EOS patients and their controls at all but the centro-parietal row (Fs1,48>13.5, Ps < .002). Differences between the control groups were most pronounced at the frontal and fronto-central row (Fs1,38>7.5, Ps < .011). When compared to their adult controls the S-14Y group showed a smaller MMN amplitude only at the frontal row (F1,34 = 4.8, P = .036).
ANOVA revealed significant differences in MMN peak latency between groups (F3,82 = 7.6, P < .001). Especially the S-14Y group showed an increased MMN latency, both, when compared to their adult controls (F1,34 = 18.7, P < .001) and to the younger patient group (F1,44 = 12.1, P = .001: Table 3).
Medication
An ANOVA comparing MMN amplitudes in 15 EOS patients with and 13 without medication was not significant (F8,192 = 1.3, P = .27, ε = .23). MMN amplitude tended to decrease more in the second window (165–195 ms) with dose of antipsychotic medication (CPZ equivalents: Fz, r = +.58, P = .03, FCz, r = +.52, P = .06). In other words there was a modest tendency for medication to sharpen the shape of the MMN waveform around its peak latency.
Dipole source analysis
The 60 ms of activity around the MMN peak was well explained by the 4-dipole model [
3
]. With minor adjustments of orientation and location, the group-solution model showed a RV<1.8% (best fit 0.9%) for each group (Table
4
). The left temporal source was close to the border of the superior temporal gyrus with the insula and parietal cortex (BA 22, 29), and the right temporal source lay slightly more rostro-ventrally on the border of the medial and superior temporal gyri (BA 21, 22, 42). The left frontal source lay posteriorly in the anterior cingulate cortex (BA 24). The right frontal source was on the border of the inferior and mid-frontal gyri (BA 10, 44, 47: Figure
2
).
Table 4
Location, strength, latency and orientation of modeled dipole sources calculated for patient groups with early onset schizophrenia (EOS), 14 years after onset (S-14Y) and their age-matched controls (C-EOS, C-14Y)
Subject Group

Interval (ms)

RV/Best-Fit (%)

Left/Right

Temporal/Frontal

Location

Strength (nAm)

Latency (ms)

Orientation

x

y

z

phi

theta

C-14Y (N = 18)

120–180

1.75/0.60

L

T (STG)

-46

-39

13

19.9

136

51

127

R

T (S/MTG)

49

-32

-2

20.9

136

67

109

L

F (ACG)

-11

-18

34

15.9

138

55

101

R

F (I/MFG)

34

52

-3

8.6

168

57

84

S-14Y (N = 18)

166–226

1.40/0.88

L

T (STG)

-52

-29

3

12.6

206

40

131

R

T (S/MTG)

61

-18

-3

13.8

184

59

140

L

F (ACG)

-2

-11

42

10.9

192

57

101

R

F (I/MFG)

32

49

-1

7.8

220

59

108

C-EOS (N = 22)

120–180

0.99/0.55

L

T (ITP)

-40

-32

24

24.2

154

54

129

R

T (STG)

61

-26

17

16.1

174

66

115

L

F (ACG)

-21

1

33

10.9

134

57

114

R

F (IFG)

49

45

-2

8.1

158

58

114

EOS (N = 28)

140–200

0.99/0.62

L

T (ITP)

-45

-32

23

18.5

170

49

121

R

T (STG)

52

-18

1

15.9

140

55

109

L

F (ACG)

-12

-17

33

12.6

136

50

99

R

F (I/MFG)

30

36

-4

7.7

174

51

112
Source locations calculated from the individual solutions (similar to the group solutions) differed significantly between the groups (Wilks Λ = .16, F12,22 = 9.9, P < .001). Potentially reflecting post-adolescent maturation the left temporal source was more lateral (10 mm) and ventral (12 mm) in the older vs. the younger controls (Fs1,33>19.8, Ps < .001), while on the right it was more medial (9 mm) and ventral (14 mm: Fs1,33>13.3, Ps < .001). The frontal source in the older controls was more posterior in the left cingulate (12 mm), and on the right it was more anterior (10 mm) and medial (13 mm) vs. the younger controls (Fs1,33>26.2, Ps < .001).
Compared to the young controls each dipole source in the EOS group was shifted slightly (Λ = .14, F
12,30
= 15.4,
P
< .001). The left temporal source was more lateral (8 mm), and that on the right was 15 mm more ventral (Fs
1,41
= 14.9, 48.0,
P
< .001). This is reminiscent of the adult control loci, but 11 mm more rostral. In the EOS patients the left cingulate source lay 15 mm more posterior, and the right frontal source 18 mm more medial than in the C-EOS group (F
1,41
= 50.6, 73.5,
P
< .001: Figure
3
). These values exceeded those in the same direction for healthy adults, and were less lateral (left cingular) and less rostral (right frontal).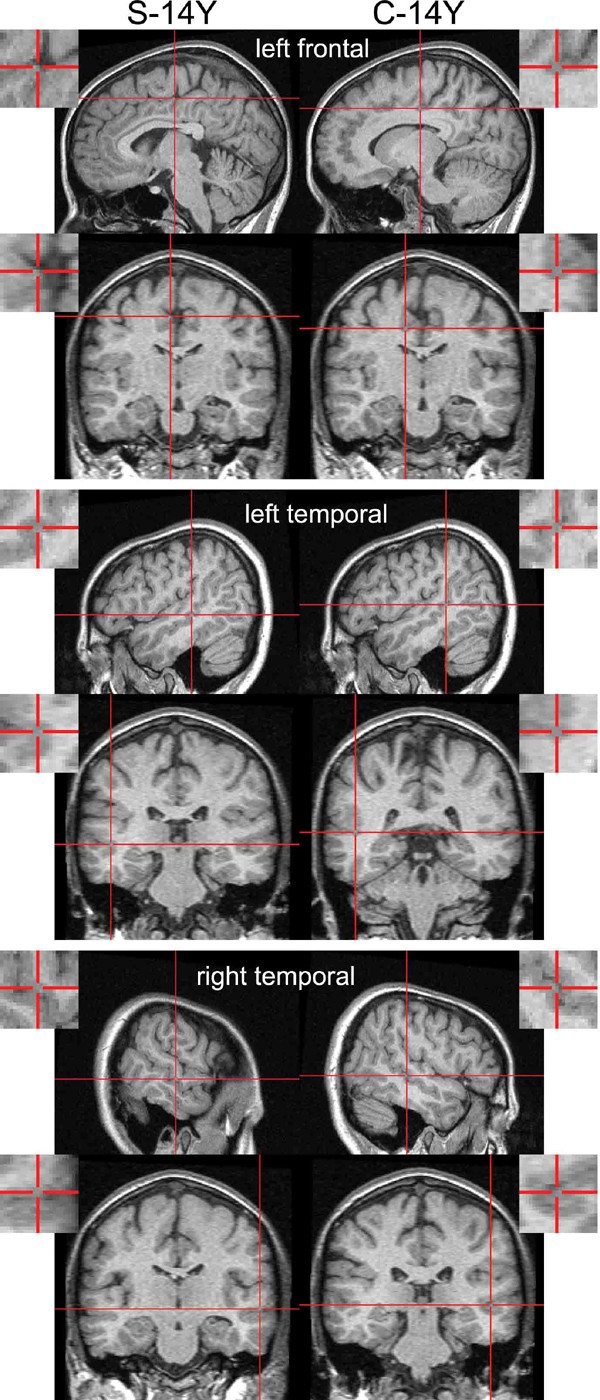 Differences in the dipole locations in the S-14Y vs. C-14Y subjects were, like the MMN waveform, less marked than those in the younger groups (Λ = .25, F
12,15
= 3.9,
P
= .008: Figure
4
). The right temporal source was 10 mm more anterolateral and the left cingular source 7 mm more medial than in the older controls (F
1,26
>15.6,
P
< .001). These changes lay on different dimensions from those described between young patients and controls. Differences between older and younger patients that could reflect maturation or illness progression were evident (Λ = .14, F
12,23
= 11.8,
P
< .001). The left temporal source was markedly more ventral (18 mm) and the right temporal source slightly more lateral (7 mm) in the older patients (F
1,34
= 70.6, 15.1,
P
< .001). In contrast to the temporal source, the left frontal locus was 13 mm more dorsal and the right frontal locus 10 mm more rostral in the older than the younger patients (F
1,34
= 26.6, 14.5,
P
< .001: Figure
3
).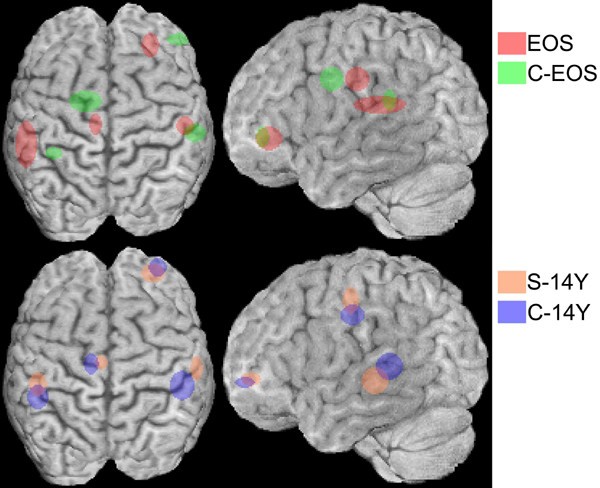 Dipole moments appeared weaker in patients (F3,201 = 4.4, P = .008). But ANOVA showed there were interactions with location rather than group. The right frontal source was always the weakest (vs. left cingulum; t70 = 3.1, P = .003). Likewise the slightly later dipole-latencies in patients were not significant (F9,201 = 1.2, P = 0.34). This is attributable to the variation recorded (SD 19–31 ms). However across groups mean latencies were longer for the right frontal source (173 vs. left frontal 161, left temporal 161, right temporal 163 ms: t70>2.8, P < .05) illustrating a bottom up sequence for activation. Finally although the dipole-orientation for the whole group solutions clearly differed between groups (see frontal and cingulate sources in Figure 2) comparisons of the means of the individual solutions proved variable, and ANOVA showed no significant group differences (see group data in Table 4).
Active condition
Group differences similar to those in the passive condition, were found with attention to the auditory modality (F3,77 = 3.9, P = .012). An interaction of group × window indicated that a significant reduction of MMN amplitude in the EOS vs. C-EOS group was delayed to the 165–195 ms window (F1,43 = 5.2, P = .027). Differences for EOS vs. S-14Y (F1,39 = 7.1, P = .011) and C-EOS vs. C-15Y (F1,38 = 9.6, P = .004) were retained for the 135–165 ms window. But comparisons between the older subjects were non-significant.
Fitting the dipole-model from the passive to the active condition, resulted in a good fit for the young subjects (C-EOS, RV 2.1%, best fit 1.4%: EOS, RV 3.5%, best fit 2.1%). Peak-dipole activity in the older subjects also fitted well the 60 ms envelope around the peak (RV 5.1%, best fits 1.2–4.0%).
Psychopathologic and neuropsychologic associations
Correlations were sought between MMN amplitude at Fz and the mastoids with the CGI and the 9 clusters of SANS/SAPS symptom ratings. EOS but not S-14Y patients showed decreasing amplitude with increasing CGI severity at frontal (r = +0.58, P = .002) and mastoid sites (r = -0.04, P = .035). In both patient groups associations of MMN with symptoms were restricted to 3 clusters. In EOS patients reduced MMN at the mastoids related to anergia (r = -0.42 to -0.7, P = .003–.0001) and flat affect (r = -0.43, P = .03). Quite separately in S-14Y patients there were indications that hallucinations related to decreased MMN at frontal sites (r = -0.54, P = .02), while, unexpectedly, increased amplitudes at the mastoids related to anergia ratings (r = +0.5 to +0.6, P = .03-.008).
Correlations for MMN amplitude with z-scores for trail-making measures of set-switching and digit-span measures of working memory were explored. Trails B-A scores were unrelated to MMN amplitude in healthy adolescents, but were negatively related to MMN amplitude at both mastoid sites in both time windows in EOS patients (r = -0.36 to -0.53, p = .07-.005). No correlations were evident in the older groups. There were no relationships to dipole-moments in the young subjects. But an association with the left cingular dipole in healthy adults (r = +0.67, P = .006) is of interest in view of trends in both older groups for an association of trails performance with temporal lobe dipole-moments in the left hemisphere (r = +0.5, P = .06–.08).
Surprisingly, in the C-EOS group digit-span scores correlated negatively with left and right mastoid MMN amplitudes in both time windows (r = -0.50 to-0.61, P = .01–.04). In contrast in EOS patients the correlations tended in the opposite direction at mastoid sites (r = +0.43, P = .03) and FCz (r = -0.4, P = .05). These measures were not correlated in the older subjects. There was no evidence of an association of MMN characteristics with other indicators of short-term memory (logical memories or verbal reproduction). Isolated relationships with dipole-moments could not be distinguished from chance.
Discussion
Auditory change detection (MMN) was reduced in teenagers experiencing their first break of schizophrenia, compared to age-matched controls (mean 1.1 vs. 2.1 μV at Fz: Table 3). In outpatients, 14 years after their first episode in adolescence, the difference with young patients showed no clear signs of deterioration or improvement (mean 1.1 vs. 0.9 μV). The unexpected decrease of MMN amplitude in healthy adults compared to adolescent controls (from 2.1 to 1.5 μV) underlies the attenuated statistical difference between adult healthy and patient groups (see also [58]). The degree of reduction of MMN amplitude in the younger patients was similar to other reports, but the reduction in older patients compared to age-matched controls was slightly less than in other reports [21, 23, 44].
In all subjects MMN was calculated as reflecting bilateral source-activity in the temporal lobes and the left cingulate gyrus followed by the right inferior-mid frontal cortex in a bottom-up sequence. These source locations, originally described in Jemel et al. [3] have been broadly confirmed using independent components analysis, LORETA, fMRI and subdural recording [59]. Dipole strengths were decreased and their latencies delayed in the patient groups. But, significant illness-related changes in the strength of dipole activity could not be demonstrated due to the poor signal-to-noise ratio in the individual solutions derived for statistical testing for between group differences. However, source locations did vary significantly between groups (see sections below). These results, obtained during attention to a visual task, were well-replicated when subjects attended to the auditory modality. MMN expression was related to symptom severity, working memory and measures of set-switching (see below).
Conclusion
In summary, superimposed on the post-adolescent brain expansion manifest on the lateral axis in the temporal lobes and rostro-caudally in the frontal lobes, separate anomalies of structural-functional relationships develop along these 2 axes in psychotic patients. We propose that in the temporal lobes a ventro-lateral migration of the MMN sources occurs secondarily to ventricle expansion. In the frontal lobes the lack of a rostral migration of MMN sources reflects delayed post-adolescent development of prefrontal regions in psychotic patients. An MMN impairment was marked in association with symptoms of withdrawal (anergia, flat-affect) and a lack of cognitive flexibility (attentional set-switching).
Scalp records of MMN show a modest recovery of change-detection between the EOS and S-14Y groups. However, in both the younger and in the older patients dipole moments and latencies were diffusely weaker and delayed compared to controls. These results may reflect a modicum of adaptive plasticity. The significant movement of the centres of activity giving rise to the MMN dipoles may reflect this as plasticity, expansion or migration of these functional centres. Alternatively the changed locations may represent a progressive illness-dependent impairment requiring adaptation elsewhere in central nervous function.
Abbreviations
BESA:

Brain electrical source activity
CGI:

Clinical global impression inventory
DSM:

Diagnostic and statistical manual (of the American Psychiatric Association)
EOS:

Early-onset schizophrenia
ERP:

Event-related potential
MEG:

magnetoencephalography
MMN:

Mismatch Negativity
MR(I):

magnetic resonance (imaging)
RV:

Residual variance
SAPS/SANS:

Scale for the assessment of positive/negative symptoms
SCID:

Structured clinical interview for DSM schizophrenia
SD:

Standard deviation
Declarations
Acknowledgements
The authors gratefully acknowledge the technical assistance of Else Chan, Ute Pfueller, Kerstin Herwig, Raquel Torres. LBO and NWW were supported by the Alfried Krupp von Bohlen and Halbach Stiftung and SAJ by the IFORES, Essen. Preliminary data were presented at the 12th Winter Workshop on Schizophrenia, Davos (Feb. 2004) and at the 16th IACAPAP Congress, Berlin (Aug. 2004).
Authors' Affiliations
(1)
Biopsychology Group, University Clinic for Child and Adolescent Psychiatry, Essen, Germany
(2)
Institute for Occupational Physiology, University of Dortmund, Dortmund, Germany
(3)
Institute of Higher Nervous Activity & Neurophysiology, Burdenco Neurosurgery Institute, Moscow, Russia
Copyright
© Oades et al; licensee BioMed Central Ltd. 2006
This article is published under license to BioMed Central Ltd. This is an Open Access article distributed under the terms of the Creative Commons Attribution License (http://creativecommons.org/licenses/by/2.0), which permits unrestricted use, distribution, and reproduction in any medium, provided the original work is properly cited.