Research article
Open Access
Open Peer Review
This article has Open Peer Review reports available.
Implementation of the Crisis Resolution Team model in adult mental health settings: a systematic review
Received: 11 September 2014
Accepted: 16 March 2015
Published: 8 April 2015
Abstract
Background
Crisis Resolution Teams (CRTs) aim to offer an alternative to hospital admission during mental health crises, providing rapid assessment, home treatment, and facilitation of early discharge from hospital. CRTs were implemented nationally in England following the NHS Plan of 2000. Single centre studies suggest CRTs can reduce hospital admissions and increase service users' satisfaction: however, there is also evidence that model implementation and outcomes vary considerably. Evidence on crucial characteristics of effective CRTs is needed to allow team functioning to be optimised. This review aims to establish what evidence, if any, is available regarding the characteristics of effective and acceptable CRTs.
Methods
A systematic review was conducted. MEDLINE, Embase, PsycINFO, CINAHL and Web of Science were searched to November 2013. A further web-based search was conducted for government and expert guidelines on CRTs. We analysed studies separately as: comparing CRTs to Treatment as Usual; comparing two or more CRT models; national or regional surveys of CRT services; qualitative studies of stakeholders' views regarding best practice in CRTs; and guidelines from government and expert organisations regarding CRT service delivery. Quality assessment and narrative synthesis were conducted. Statistical meta-analysis was not feasible due to the variety of design of retrieved studies.
Results
Sixty-nine studies were included. Studies varied in quality and in the composition and activities of the clinical services studied. Quantitative studies suggested that longer opening hours and the presence of a psychiatrist in the team may increase CRTs' ability to prevent hospital admissions. Stakeholders emphasised communication and integration with other local mental health services; provision of treatment at home; and limiting the number of different staff members visiting a service user. Existing guidelines prioritised 24-hour, seven-day-a-week CRT service provision (including psychiatrist and medical prescriber); and high quality of staff training.
Conclusions
We cannot draw confident conclusions about the critical components of CRTs from available quantitative evidence. Clearer definition of the CRT model is required, informed by stakeholders' views and guidelines. Future studies examining the relationship of overall CRT model fidelity to outcomes, or evaluating the impact of key aspects of the CRT model, are desirable.
Keywords
Crisis resolution teamHome treatment teamCrisis assessment and treatment teamMental healthService implementationGood practiceSystematic review
Background
Crisis Resolution and Home Treatment Teams (CRTs) serve adults experiencing an acute mental health crisis who are otherwise likely to require hospital admission. CRTs aim to provide rapid assessment, to treat service users at home where possible, and to facilitate early discharge from hospital [1]. They offer an alternative to hospital care with the aim of treating people 'in the least restrictive environment with the minimum disruption to their lives' ([2] p.11). CRTs typically aim to offer 24-hour access, intensive support and a "gatekeeping" function (controlling access to inpatient beds and assessing suitability for home treatment before admission) [1].
CRTs in England
Provision of CRTs in all catchment areas became mandatory in England in 2000 under the National Health Service (NHS) Plan [3]. Nationwide introduction of this model was achieved over the next few years, but with variable adherence to the Department of Health's original guidance [4]. A national survey of CRTs in 2005/6 found that only 40% of teams described themselves as fully established according to the Department of Health's [3] guidance, with a third of teams not involved in gatekeeping, and just over a half of teams offering a 24-hour, seven-day-a-week home visiting service [4]. CRT availability is no longer mandatory in England, but the model continues to be prominent: national guidance on service delivery strongly recommends CRTs as a central part of acute service pathways [5,6].
Impact of CRT implementation
Some single centre studies [7,8], including a randomised trial of CRTs [9], provide evidence that CRTs can reduce the number of hospital admissions, and thus also cut the cost of services [10]. Some naturalistic studies have suggested that CRTs can increase service users' satisfaction with acute care [8,9,11,12]. However, overall reductions in admissions have not been reported everywhere where CRTs have been introduced (for example such reductions were not found in a team in Wales, [13], and national data do not indicate a clear overall effect in reducing admissions [14,15]. Some service users and carers report unsatisfactory experiences of CRT care [16,17]. A higher rate of suicide on CRT caseloads than in acute inpatients has also recently been reported, with concerns raised that risk management may be less than optimal in some teams [18]. Thus evidence suggests that the implementation of the CRT model in England currently does not consistently achieve the intended aims, while implementation of the model also appears to vary greatly in Norway, the other country where CRT introduction has been national policy [19]. There is a need for evidence on how best to implement the CRT model. This should include specification of the organisational structures, specific interventions and ways of working that are likely to optimise outcomes, and the development of methods for assessing service quality and for improving implementation [1].
Previous systematic reviews of CRTs have focussed on whether CRTs are effective, rather than exploring the characteristics that influence their effectiveness. Findings were of increased service user and/or carer satisfaction rates for CRTs versus standard care [20-22]; reduced hospital bed use following introduction of CRT care [23]; and reduced inpatient admissions but inconclusive effect on compulsory admissions [21 in Germany] [20,24]. The specific effectiveness of CRTs for people with borderline personality disorders [25] or for older people [24] is unclear from current evidence.
Aims and scope of study
Although previous papers have reviewed the effectiveness of CRTs, no review to our knowledge has systematically collected qualitative and quantitative evidence and views regarding key organisational principles and critical components of CRT services. Therefore, this study aims to systematically review randomised and non-randomised comparison studies and national surveys of CRT services, qualitative studies of CRT stakeholders' views, and national and expert guidelines relating to the implementation of CRTs. We aim to investigate:
i.

What characteristics of CRTs are associated with positive outcomes in empirical evaluations of CRT services?

ii.

What do service users, carers and staff identify in qualitative studies and surveys and quantitative questionnaires as important elements influencing CRT service quality?

iii.

What recommendations do government agencies and non-statutory organisations and experts make regarding CRT service delivery and organisation?
The review follows the Preferred Reporting Items for Systematic Reviews and Meta-analyses (PRISMA statement) [26] and follows guidance from the Centre for Reviews and Dissemination [27] on conducting narrative synthesis. A PRISMA checklist for this review is provided in Additional file 1.
Methods
Protocol and registration
The study is registered with PROSPERO international prospective register of systematic reviews at the Centre for Reviews and Dissemination, University of York; registration number CRD42013006415. The protocol can be found online [28].
Inclusion criteria
Services
We included studies of CRTs that offer intensive home treatment for a brief period (typically a month or less on average) to adults with acute mental health problems who would otherwise be admitted to hospital. We included specialist services established for crisis care and integrated services with a clear crisis function. For quantitative studies, comparison treatment as usual (TAU) groups were specialist mental health services that provide multi-disciplinary community-based care (such as UK Community Mental Health Teams).
We excluded studies of intensive home treatment services which offered on-going rather than brief care (such as Assertive Community Treatment teams). In order to assess the impact of CRTs in a contemporary mental health system involving secondary care community mental health teams, we also excluded studies comparing CRT services to treatment as usual where the latter involved only inpatient care or outpatient appointments with a psychiatrist.
Participants
At the participant level, the inclusion criterion was that CRTs serve adults with acute mental health problems who would otherwise be admitted to hospital. Studies including older age adults were included if the participants had a functional mental illness rather than an organic mental disorder.
Studies primarily including participants under the age of 16 were excluded.
Types of study
The following types of study were included:
1.

Quantitative studies of any type comparing outcomes between two or more CRTs with different characteristics or service content.

2.

Quantitative studies of any type comparing a CRT service with another type of service or treatment as usual (in order to explore differences in CRT characteristics between studies where the CRT is found to have an association with improved outcomes and studies where there was no effect).

3.

National or regional level surveys of CRTs which report associations between service characteristics and outcomes.

4.

Qualitative interviews, focus groups or surveys (some also including quantitative questionnaires) of stakeholders' views (service users, carers and staff) regarding elements of good CRT services.

5.

Published guidelines from statutory agencies or non-statutory organisations with responsibility for policy and health services in England, which provided recommendations regarding CRT service delivery and organisation, often based on the views of an expert panel or a panel containing experts and stakeholder group representatives.
In anticipation of few randomised trials being found, studies in categories 1) and 2) were not restricted by methodology: randomised controlled trials and also natural experiments with pre- and post- comparisons and natural experiments with parallel groups were eligible for inclusion.
Studies written in languages other than English were not excluded. Studies conducted up to the time of the last search were included, and there was no time limit specified.
Search strategy
An electronic database search using MEDLINE, Embase, PsycINFO, CINAHL and Web of Science was conducted using the search terms in Additional file 2: Table DS1 (last search conducted in November 2013). Key words related to concepts of "crisis resolution" and "home treatment" were combined with MeSH terms from the PubMed database and Subject Headings from the PsycINFO database. We did not make restrictions using limit functions.
A web-based search of government and expert organisation guidelines for England regarding CRTs was conducted using the search terms and web resources reported in Additional file 2: Table DS2. Google was also searched.
The title and abstract of all retrieved studies were scanned independently by two reviewers (AC, BLE, CF, BP or CW). The full text of potentially eligible papers was retrieved and decisions about inclusion made by two reviewers (AC, BLE, CF, BP or CW). We screened the reference lists of key papers. Any disagreement regarding inclusion was resolved through discussion or, where necessary, with reference to another reviewer (SJ).
Data extraction
A data extraction form was used to code and record relevant data from each included study. Data extraction was carried out by a member of the review team (BLE, CF, LM, BP, CW or CGZ) and checked by another member of the team; with discrepancies resolved in consultation with another reviewer (SJ). Information was extracted from included studies on:
1.

Study characteristics: type of study; setting; participant numbers and characteristics (for quantitative studies); duration of study and outcomes assessed

2.

Results: outcomes and significant findings from quantitative studies; themes and recommendations from stakeholder interviews and guidelines

3.

CRT service characteristics: for quantitative studies comparing two CRT service models, we reported the differences between services being studied; for studies of CRTs versus standard care, we reported characteristics of CRTs identified in statutory guidance for England [2] including 24 hour service, gatekeeping function staffing levels, multi-disciplinary team, (defined here as including at least one other professional group in addition to nurses and psychiatrists), medical staffing in team, duration of care and early discharge function to support prompt discharge from hospital.
We contacted authors to ask for any of this information not available from published papers.
Quality of individual studies
Quality was assessed using the Mixed Methods Appraisal Tool (MMAT) [29]. The tool is applicable to quantitative, qualitative and mixed methods primary studies. We did not exclude papers from the review on account of low quality scores, but quality scores were reported and considered in the narrative synthesis of the evidence. The MMAT quality scoring scale ranges from 0 (low quality) to 4 (high quality). The MMAT has been pilot tested for reliability in systematic reviews [30]. Ratings are specific to particular methodologies, and are based on control of confounding factors; completeness of outcome data; minimisation of selection bias; representativeness of sample; appropriateness of measures; response and withdrawal rates; appropriateness of study design to answer the research questions; and consideration of limitations.
Synthesis of results
We conducted a narrative synthesis to integrate findings from studies of all methodologies (quantitative, qualitative and mixed methods). The synthesis was structured around the characteristics of CRTs, important elements influencing CRT service quality, and recommendations for CRT service delivery and organisation. Quantitative synthesis of results from quantitative studies was not considered appropriate because of the heterogeneity of types of study, outcomes measured, service settings and characteristics.
Results
Study selection
The Study Selection flow Diagram - Figure
1
- shows the selection and screening of papers to include in the review. After removing duplicates, the database search yielded 2749 studies. The web-based search for expert and government guidelines yielded 1650 papers/reports. After screening, 69 studies and documents were identified for inclusion in the review.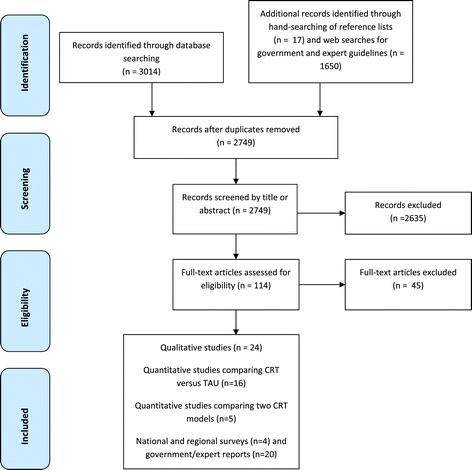 Study characteristics
The 69 papers included in the review comprised:
Table 1
Comparison studies of different CRT models - study characteristics and outcomes
Study Reference

MMAT score

Study characteristics

CRT models compared

Results

Allen (2009) [31]

n/a

Natural experiment with pre- and post-comparison; Buckinghamshire, UK

CRT team pre and post several organisational changes: "patient typing" system categorising service user needs introduced; greater use of leave from hospital to promote early discharge; referrals to CRT from other mental health services accepted without reassessment; structured screening tools introduced for acute assessments; closer links between CRT and day hospital introduced with single key worker system

Reduction in inpatient bed provision and greater service user satisfaction reported following changes. No statistical tests or numerical results reported

Doyle (1994) [32]

3

Natural experiment with parallel groups: 1 Team in Folkestone, UK 1 Team in Barnet, UK

Folkestone CRT with 9 am-5 pm opening hours

No clear difference between CRT models reported and no statistical tests reported. Over the follow-up period

Barnet CRT with 24 hour opening

9% of the 9-5 (Folkestone) CRT service users were admitted to hospital vs 5% Barnet

Happell (2009) [33]

3

Natural experiment with pre- and post-comparison of parallel groups; Melbourne, Australia

Control Group: Day after initial assessment, full assessment given by trainee psychiatrist, care management plan formulated.

Mean HoNOS scores not significantly different between the groups at baseline – no p-values reported

Treatment Group: Day after initial assessment, full assessment given by nurse practitioner, who took role of trainee psychiatrist (After 7 days service users in nurse-initiated care group reverted to treatment as usual)

HoNoS scores for both groups significantly improved with treatment (difference for control group: t = 7.90, df = 51, p < .001; difference for treatment group: t = 6.90, df = 50, p < .001) No information given as to whether there was a significant difference between group HoNOS scores after treatment.

Service user and carer satisfaction scores were reported as not significantly different between groups – no p-values given

Harrison (2011) [34]

3

Natural experiment with pre- and post-comparison of a single CRT; Manchester, UK

• In 2005 ('pre'), referrals were only taken from secondary services.

• 301 people treated in a six-month period in 2008/09, 128 in a comparable period in 2005

• In 2008-2009 ('post'), referral routes extended to primary care.

• Mean duration of contact in 2008/09 – 24 days, in 2005 – 69 days

• 39% in 08/09 already known to services and in receipt of Care Plan Assessment (CPA), 70% in 05 (P < 0.005)

• Increase in proportion treated for less severe illnesses (less severe depression and other diagnoses) in 2008/09 compared with 2005 (increase from 25 to 50%, P < 0.0001)

• Fewer treated with severe mental illness (schizophrenia and related disorders, bipolar disorder and psychotic depression); 50% in 08/09, 75% in 2005, P < 0.0001

Reding (1995) [35]

4

Retrospective natural experiment with pre- and post-comparison; Kalamazoo County, Michigan, USA

• Comparison of before and after the introduction of a psychiatrist to the team

There were significantly fewer state hospital admissions in the team with a psychiatrist (p < 0.001). (The decrease in state hospital admissions was not offset by a corresponding increase in admissions to the local private psychiatric hospital.)
The overall mean quality score for included studies (not including government and expert guidelines) was 2.96 (moderately high quality) on the MMAT scale [29], with a standard deviation (SD) of 1.07. The breakdown of scores differed between types of study as follows: studies comparing two or more CRTs obtained a mean score of 3.25 (SD = 0.5); studies comparing a CRT to treatment as usual (TAU) or another service obtained 3.33 (SD = 0.72); the mean score of national surveys was 3.75 (SD = 0.5); and stakeholder interviews and surveys had a mean score of 2.61 (SD = 1.12). The results of one of the studies [44] are reported only briefly in a book chapter and consequently scored an MMAT rating of zero. The MMAT scores are reported in Additional file 4: Tables DS7-10.
Conclusions
Overall, the present findings provide considerable evidence about stakeholders' priorities for CRTs, which are broadly congruent across stakeholder groups. However, our review allows few confident conclusions about the critical components for effectiveness of CRT services, due to the paucity of empirical evidence in the literature. Further research is required to determine elements of best practice that result in effective CRT service provision, including tools to evaluate adherence to a model of good practice.
Abbreviations
CRTs:

Crisis Resolution Teams
MMAT:

Mixed methods appraisal tool
RCT:

Randomised controlled trial
Declarations
Acknowledgements
This paper was written as part of the CORE Study, a research programme funded by the United Kingdom National Institute for Health Research (NIHR) under its Programme Grants for Applied Research programme (Reference Number: RP-PG-0109-10078). The views expressed are those of the authors and not necessarily those of the NHS, the UK NIHR or the UK Department of Health.
Authors' Affiliations
(1)
Division of Psychiatry, UCL, London, UK
(2)
Department of Psychology, University of Bath, Bath, UK
Copyright
© Wheeler et al.; licensee BioMed Central. 2015
This article is published under license to BioMed Central Ltd. This is an Open Access article distributed under the terms of the Creative Commons Attribution License (http://creativecommons.org/licenses/by/4.0), which permits unrestricted use, distribution, and reproduction in any medium, provided the original work is properly credited. The Creative Commons Public Domain Dedication waiver (http://creativecommons.org/publicdomain/zero/1.0/) applies to the data made available in this article, unless otherwise stated.